Last week we had fun featuring Fun Fall Recipes for the Homeschool Family, as well as looking through those that some of you added to the linky party. Thanks for joining in! I can't wait to try some of those recipes. We have a lot of fall days left!
Recently, I took my two littlest girls out to a local pumpkin patch with a friend. They had a blast experiencing bounce houses, slides, and a corn bin to play in for the first time. I even went down one of the slides with my friend's little girl since she had an infant and couldn't do it herself. I was a bit nervous, but we both made it through unscathed!
One of the fun activities they enjoyed while there was pumpkin painting. Included in the price of admission was a pumpkin and there were supplies available for painting, an apron to keep our clothes clean, and a little table to place them on to dry while we played throughout the rest of the park. Here are their two pumpkins: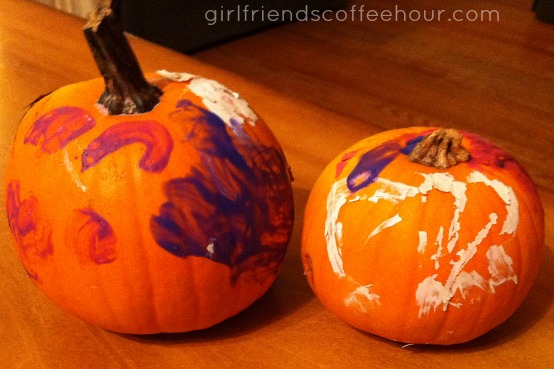 Not bad for 3 and 4 year olds, eh?
I did collect a few other pumpkins and brought them home for my older kids and I to paint. My husband decided to get in on the action, too, and I'm sharing his work of art with you today.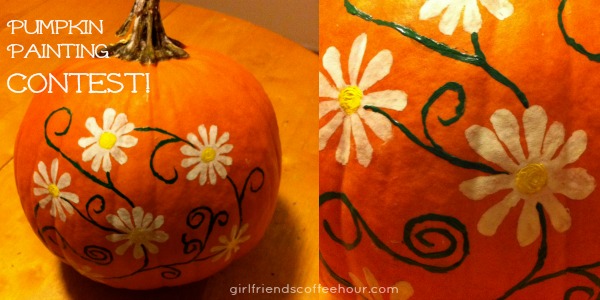 Didn't he do a wonderful job?
Last week we asked you to work on your pumpkins and then come link up with us this week. Did you get your pumpkins painted? If not, or if you are just now joining us, you still have plenty of time to paint them and then enter the contest.
Pumpkin Painting Contest Rules
collect pumpkins
paint them with a fun, fall theme (family-friendly, please)
come back here to enter the contest
have fun!
This linky party will be open until November 13, 2013, and we will announce the winner on November 15, 2013, with our next linky party! If you win, we will feature your pumpkin here on November 15th!
Enter the Pumpkin Painting Contest now!
*Note: If you would like to enter but do not have your own blog, you are not left out! Please head over to At Home w/GCH on Facebook and leave your photos on the thread there. Cannot wait to see what you have for us!