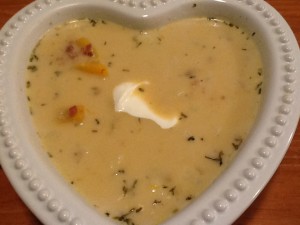 This past weekend some of my large family (I have 7 brothers and sisters, along with their spouses, children, and grandchildren and my own daughter, son-in-law, and their 4 children!) came to celebrate my 58th birthday; happy me!  One dish that we shared was a Harvest Soup, full of veggies and grated apples…very yummy.  This is a slightly sweet soup, very satisfying and filling.  Also, I chose to make it vegan since I was sharing it with my beautiful sister, Brigit.  (The dollop of sour cream in the above pic was in my own bowl of yummy soup!)  This would make a great addition to your own menu when you have vegans, vegetarians, and meat-eaters

sharing a meal together.
Here on our Monday installment of At Home w/ GCH, we have been featuring recipes which included Fall in-season fruits and veggies.  This week, our recipe features a few: apples, cauliflower, and (surprise!) butternut squash.  This week's recipe fits into our healthy but-oh-so-yummy! category since it is really yummy (did i mention that before?), extremely low in fat, and full of delicious, nutritious vegetables.  Enjoy!  <3
Harvest Soup
Ingredients:
2 butternut squash
1 large head of cauliflower
3 teaspoons olive oil
Kosher salt, freshly ground pepper
1 sweet onion
1 additional teaspoon olive oil
2-3 tablespoons chopped garlic
2 quarts of vegetable stock
2-3 apples, grated
1 can coconut milk (shake well!)
Optional add-ins:
Cooked, crumbled bacon
Sour cream
Shredded sharp Cheddar
Chopped avocado
Sprinkle of cinnamon (try it!)
Directions:
Preheat oven to 425.
Peel the butternut squash; scoop out the seeds and strings; and cut up into 2″ pieces.  Set aside in a large bowl.
Cut up the cauliflower into smallish-size florets; add to bowl.  Pour in olive oil and season veggies with salt and pepper.  Stir well, pour onto a baking sheet and roast for 20-25 minutes.
Meanwhile, dice onion fairly small and saute along with 1 teaspoon olive oil over medium high heat for 5 minutes or so; reduce heat to low and add in chopped garlic stirring constantly for 1 minute.
Pour in the vegetable stock; add salt and pepper to taste and simmer gently.
When the veggies in the oven are done roasting, remove from oven and immediately pour into your stockpot.  Stir well to combine.  Allow to simmer for 20 minutes or so,adjusting heat if necessary.
When done, scoop out about 1/3 of the veggies and use an immersion blender to puree what is left in the stockpot.  (This could also be mashed, or, very carefully, pureed in a standard blender in batches.)  Taste (be careful…it's hot!) for additional seasoning, and add back in the reserved veggies.
Add the grated apple and pour in the coconut milk; stir well.  Done!
Optional add-ins can be put atop individual bowls of soup.
♥  ♥  ♥  ♥  ♥
God loves you!  ♥  (Don't ever forget that!)
♥  coleen