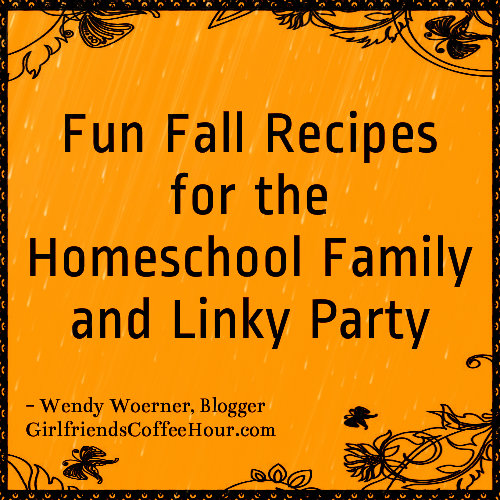 Fall has arrived in my neck of the woods. I can see hints of orange in the treetops as I sit here writing this post. Along with the fall season comes cooler weather and, for me, an urge to prepare all sorts of delicious fall dishes that we may not serve so much throughout the rest of the year.
This week I have collected several recipes for you for some fall fun in the kitchen! I've linked them below for you. I hope you'll try some of them, and please do come back here to let me know how it went!
Fun Fall Recipes
Granny's Perfect Pumpkin Pie: Plus a Yummy Gluten Free Option, found at Not Consumed.
Caramel Pumpkin Doughnut Hole Muffins, Perfectly Pumpkin Pancakes, Perfectly Pumpkin Waffles, and Rustic Apple-Stuffed Coffee Cake from A Nest in the Rocks.
Pumpkin Spiced Oatmeal from A Moment With Mom.
Cinnamon Orange Stovetop Potpourri from Covenant Ranch Trucking.
Gluten Free Apple Crisp found at The Chaos and the Clutter.
Dairy Free Pumpkin Bread and Mixed Berry & Cocoa Nib Oatmeal Cookies from Southern Test Kitchen.
Fall Inspired Caramel Apples found at Happy and Blessed Home.
Pumpkin Cream Cheese Muffins from Preschoolers and Peace.
Fun Fall Linky Party 
I hope you will link up with us this week with your own fall recipes. You'll find the linkup listed below.
Also, next week when we host the next linky party, we have chosen a theme for you. Pumpkin Painting, and we'll be having a contest!  Be sure to work on your pumpkins between now and then, and come link up next week to enter the contest.  Children and parents alike may enter to win.