Here on our Monday installment of At Home w/ GCH, we are continuing to focus on Fall in-season fruits and veggies.  This week, our recipe features Acorn Squash.  Ok, ok, I am sure you have noticed that I have a 'thing' for winter squash.  I love 'em all…but my fav's are Butternut, Spaghetti, Acorn, Delicata, and Sweet Dumpling.  Check out this link for lots more info on winter squashes and details on the incredible nutritional value they have.
This week's recipe fits into our healthy but-oh-so-yummy! category since it is full of lucious veggies, uses low-fat ground chicken, and almost no added fat.  Also, this could easily become a vegetarian meal by leaving out the meat.  Also, you will have some leftover stuffing so you could enjoy it in a different "container" i.e., portabello caps, or zucchini; thus getting two meals for your effort!  Enjoy!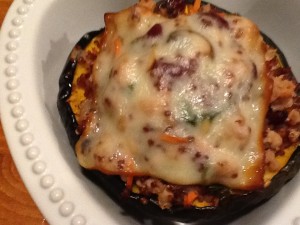 Stuffed
Acorn Squash
Ingredients:
2 acorn squash, rinsed
1 tablespoon butter
salt and pepper
1 cup water
1 cup chicken or vegetable broth
1 cup quinoa (I used red quinoa)
1 medium-sized sweet onion, chopped
4-6 large Baby Bella mushrooms, cleaned and chopped
3 tablespoons chopped garlic
2 large handfuls baby arugula (or spinach) 2-3 ounces, roughly chopped
3-4 tablespoons pine nuts
1/2 cup dried cranberries
2# ground chicken
1 teaspoon thyme
1/2 teaspoon ground sage
1 teaspoon each, kosher salt and freshly ground pepper
4 slices (1 ounce each) of smoked gouda (or muenster, or swiss)
Directions:
Preheat oven to 400.
CAREFULLY cut each squash in half lengthwise; scoop out seeds and strings. Season the inside of each squash well with a bit of butter, and lots of freshly ground salt and pepper.  Place each half, cavity side up on a baking sheet and roast 'til tender when pierced with a sharp knife, about 35-40 minutes. Remove from oven and set aside.
Reduce oven temperature to 350.
Cook quinoa according to package directions, using water and broth. When done, pour into a large bowl; set aside.  (NOTE: the squash and the quinoa can be prepared ahead of time.)
Meanwhile, in a large saute pan over medium-high heat, warm 2 tablespoons of olive oil; then add the onion and mushroom pieces.  Stirring often, saute 'til just turning slighty brown and caramelized.
Add the chopped garlic and stir constantly for one minute.
Reduce heat and toss in the chopped arugula.  Stir frequently and cook just 'til the greens are getting wilty; approximately 5 minutes or so.
Add this mixture to the cooked quinoa along with the pine nuts and dried cranberries, and stir 'til all is well-combined.
Using the same pan, add 1-2 tablespoons olive oil and the ground chicken and seasonings.  Cook over medium high heat, 'til the chicken is completely cooked through.  Break up the meat as it cooks.
When the chicken is done cooking, add it to the mixture in the large bowl and combine.
Fill each squash half equally with veggie-quinoa-chicken mixture and bake, uncovered, 'til filling is slightly browned on top about 15 minutes.
Lay one slice of cheese on each squash half and bake just 'til cheese begins to melt.
♥  ♥  ♥  ♥  ♥
God loves you!  ♥  (Don't ever forget that!)
♥  coleen