During that night the king could not sleep so he gave an order to bring the book of records,  the chronicles, and they were read before the king.   It was found written what Mordecai had reported concerning Bigthana and Teresh, two of the king's eunuchs who were doorkeepers,  that they had sought to lay hands on King Ahasuerus.   The king said, "What honor or dignity has been bestowed on Mordecai for this?"  Then the king's servants who attended him said, "Nothing has been done for him."

 Esther 6:1-3
The favor of a man (in this case King Ahasuerus), while a blessing, is always temporary.  As we read this record, we see that the king realized that something should have been done to show honor, or favor, to Mordecai for saving Ahasuerus' life. (Look back here to see exactly what had happened.)  For some reason…perhaps God's timing…it did not happen at that time.
We have seen 'favor' being given here in Esther's story before…let's look back.
…Now Esther was winning favor in the eyes of all who saw her.
And the king loved Esther more than all the women, and she obtained grace and favor in his sight more than all the maidens….
Chapter 2, verse 15-17
And when the king saw Esther the queen standing in the court, she obtained favor in his sight, and he held out to [her] the golden scepter that was in his hand. So Esther drew near and touched the tip of the scepter.
Chapter 5, verse 2
In the first account, Esther was favored not only by everyone she met but…far more importantly…she was favored by the king.  And, in the second record, because of the favor that Esther received from her husband King Ahasuerus, she was allowed to approach his throne and granted her most unusual request.  When favor is given from person to person, there is always the chance it will be withheld, or delayed…as in the instance between Ahasuerus and Mordecai.
However, God's favor—His grace to us—is never withheld.  We are never left waiting for His blessing.  When we receive favor from the Lord it is always timely…perfectly on time.   There are many records throughout the Bible of people being favored by the Lord.  Here are a few of my personal favorites!
Noah — found favor in God's eyes; and we know what came from that!
Genesis 6:6-8
And the Lord regretted that He had made man on the earth, and He was grieved at heart.
So the Lord said, I will destroy, blot out, and wipe away mankind, whom I have created from the face of the ground—not only man, [but] the beasts and the creeping things and the birds of the air—for it grieves Me and makes Me regretful that I have made them.
But Noah found grace (favor) in the eyes of the Lord.
Moses — also was favored by God and through His life the children of Israel benefitted from that favor and were led to the Promised Land.
Exodus 33:17 and 18
The Lord said to Moses, "I will also do this thing of which you have spoken; for you have found favor in My sight and I have known you by name."
Then Moses said, "I pray You, show me Your glory!"
David — Psalms 5:12, 30:5 and 7, 69:13 (and others)
Acts 7:45 and 46
So it was until the days of David, who found favor in the sight of God
and asked to find a dwelling place for the God of Jacob.
Mary — Can you only imagine being told these things!
Luke 1:28-31
The angel went to her and said, "Greetings, you who are highly favored! The Lord is with you."
Mary was greatly troubled at his words and wondered what kind of greeting this might be.
But the angel said to her, "Do not be afraid, Mary; you have found favor with God.
You will conceive and give birth to a son, and you are to call Him Jesus.
As we read through these records and remember the fullness and importance of each account, I think that we recognize the incredible value there is in finding 'favor with God.'  I have read numerous times that 'favor' (Old Testament word) and 'grace" (New Testament word) are the same thing.  So favor = grace. 
Well, we HAVE found favor, or grace, with God!  And the favor/grace that we have with Him can never be withheld, delayed, or taken away!  (For a beautiful picture of God's favor, His grace to us, read Romans 5.)
Read through the following verses…I pray that God will enlarge your understanding so that you will see and know of His favor and grace towards you!
I always thank my God for you because of His grace given you in Christ Jesus.
1 Corinthians 1:4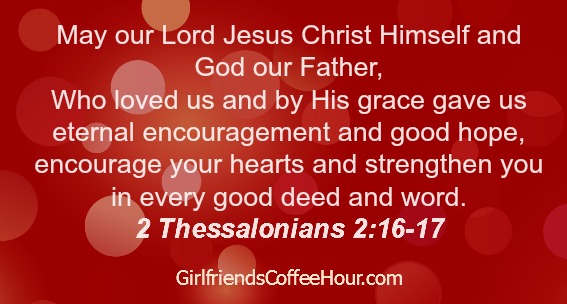 Let's Pray:
Almighty Father, we thank You…we praise You…for the immensity of Your grace towards us!  Where would we be without it?!!  Truly, still dead in our trespasses and sins!  Your grace, your favor, Your blessing for our lives cannot be earned; we are so thankful!  May we hold the TRUTH regarding Your wonderful grace in our hearts…and rest in that truth.  Thank You, Father; we love and adore You!
Amen.