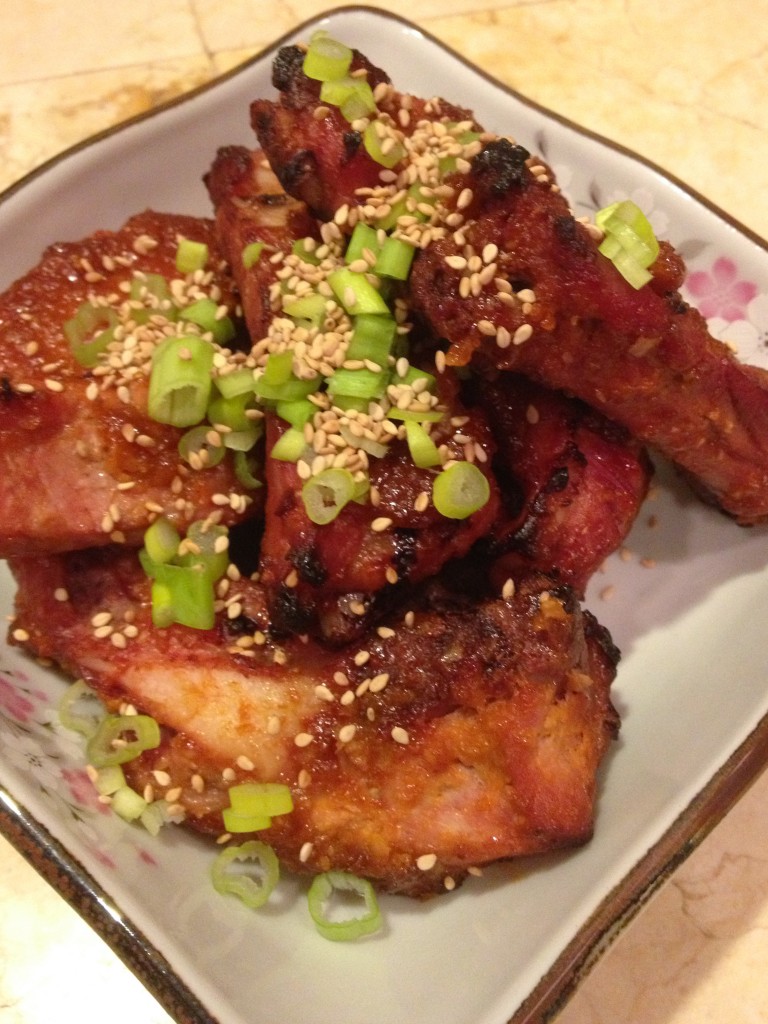 Mmmm, ribs!  I love them so, especially when they're sloppy and tangy, even though I hate getting messy.  My mother-in-law made her version of this Korean dish – and while they were tasty, and chewy, they were too spicy for my taste, and WAY too hot for the children!  I wanted the best of both worlds:  tangy American-style, and spicy Korean-style.  I think I made it work.  These are my Korean-American Pork Ribs!
I found the rack of ribs really cheap at my Korean grocery store.  And instead of using the traditional Korean hot chili paste (gochujang), I used a chipotle in adobo sauce.  It added just the right amount of heat without being overwhelming, and also gave everything a smoky flavor that you can't get without a real wood chip smoker.  Everything else is pretty easy to find at the store.  If you have any leftover ginger, peel it and freeze it.  It will keep forever in there, and will be easier to grate when it's frozen.
Koreans eat these as snacks or with lots of vegetable ban chans.  They're also a bar food favorite, so try these with a cold beer, if you like!
Korean-American Pork Ribs  (Dwaeji Galbi)
Ingredients:
3 pounds pork ribs
1/2 cup brown sugar
1- or 2-inch piece of fresh ginger, peeled and grated
1/4 cup soy sauce
2 tablespoons sesame oil
1/2 onion
3 cloves garlic
1/4 cup ketchup
2 tablespoons yellow mustard
1 chipotle in adobo sauce (or more if you want it spicy!)
diced green onion and sesame seeds, for garnish
Directions:
Cut the ribs apart into individual pieces.  Place in a very large bowl.
In a food processor or blender, add sugar, ginger, soy sauce, sesame oil, onion, garlic, ketchup, mustard, and chipotle.  Blend until smooth.  Pour over ribs, toss to coat, and refrigerate for at least 4 hours – overnight, if you can.
When ready to cook, preheat oven to 400*F.  Place a baking rack over a baking sheet lined with foil (this make clean up much easier!)  Bake for about 45 minutes, turning the ribs and basting then with leftover marinade every 15 minutes.  Garnish with diced green onions and sesame seeds.
Explore, experiment, enjoy! — Dana
---
To view even more of Dana's unique recipe, you can visit her at Frugal Girlmet!