Yummy is the best way to describe this dish. It is perfect for the summertime when you have fresh fruit readily available. You can make a meal of it or it is a perfect healthy side dish too.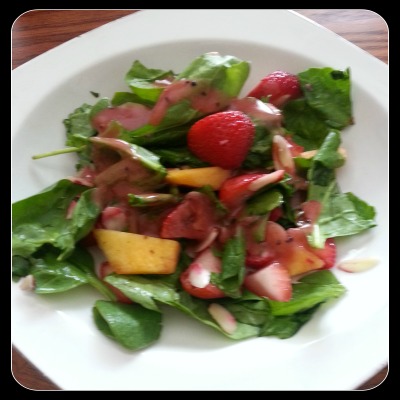 Ingredients:
Bag of fresh spinach leaves
Pint of strawberries
2-3 Peaches
Bag of sliced almonds
Raspberry Vinaigrette Dressing
Directions:
Rinse the spinach leaves and the fruit.
Cut up the strawberries and peaches in bite size pieces.
Combine the spinach leaves, fruits and almonds in a bowl. You can also add fresh blueberries or any other of your favorite fruits. You can use sunflower seeds or pecans instead of almonds.
Toss the salad and drizzle with the dressing. Any type of vinaigrette dressing tastes great with this salad. I have also used balsamic vinaigrette and strawberry vinaigrette.
This salad keeps well in a Tupperware container overnight. If you know you will have leftovers, it is best to add the dressing per serving instead of on the entire salad directly. Approximately 6 servings.
Serve and Enjoy!

Amy