Here on our At Home with GCH blog, Monday's are always focused on healthy but oh-so-yummy! recipes. We are continuing our series of summer recipes featuring in-season produce. Our featured ingredient this week is basil!  We can all identify the pungent aroma of basil…mmmm!  Basil has all kinds of health benefits <who knew?!>; check out some info here.  While basil is definitely 'in-season' here at the height of the summer growing season, it actually is easily grown as a houseplant.  Consider purchasing a small pot of basil (even in the grocery store) and keeping it in a cute little pot right on your sunniest windowsill.  Easily you could be pinching off a handful of leaves to make into pesto, or scatter some into a Caprese Salad, or slicing them up to finish off your best pot of spaghetti sauce all winter long!  Enjoy!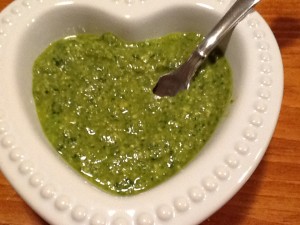 Pesto
Ingredients:
2 cups basil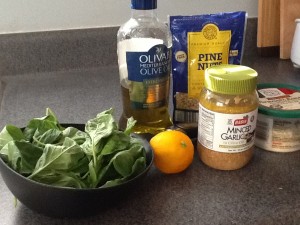 2 cups baby spinach leaves
3 tablespoons (or more!) chopped garlic (I use jarred)
2/3 cup pine nuts
1 cup freshly grated Parmesan
1 teaspoon kosher salt
1 teaspoon freshly ground black pepper
1/2 lemon, juiced
2/3 cup olive oil
Directions:
Place the  pine nuts and garlic in the bowl of a food processor and blend for 15 seconds.
Add the basil, spinach, salt, and pepper.
With the food processor running, slowly pour the olive oil and the lemon juice into the bowl through the feed tube.
Process until the pesto is thoroughly pureed.
Add the Parmesan and puree 'til thoroughly incorporated (30-40 seconds).
Use immediately. *See below for hints on storing the extra pesto.  Enjoy!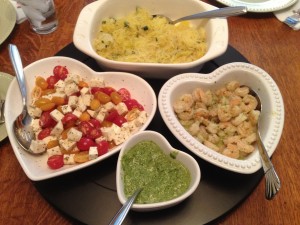 This is how we enoyed the pesto: Mix 1/4 – 1/3 cup into a pound or so of shrimp sauteed with LOTS of garlic.  Bread on the side.  As you can see, we also enjoyed a delicious Caprese salad (click link above for recipe) as well as spaghetti squash sauteed along with some zucchini.  No complaints were heard! 
Store extra pesto in the refrigerator for up to 1 week in a small container with a very thin film of olive oil on top (to seal out air).  Can also be frozen in an ice cube tray, or (my favorite) in mini-muffin cups.  To do this, wipe the muffin tin compartments with a paper towel dipped in olive oil.  Spoon in a heaping tablespoon of pesto into the compartments.  Place in freezer.  After a couple of hours, remove tin from freezer.  Set gently into a sink with just a little bit of hot water; this should loosen the individual portions of pesto.  Pop them all into a freezer container…you will be so glad you did!
♥  ♥  ♥  ♥  ♥
God loves you!  ♥  (Don't ever forget that!)
♥  coleen