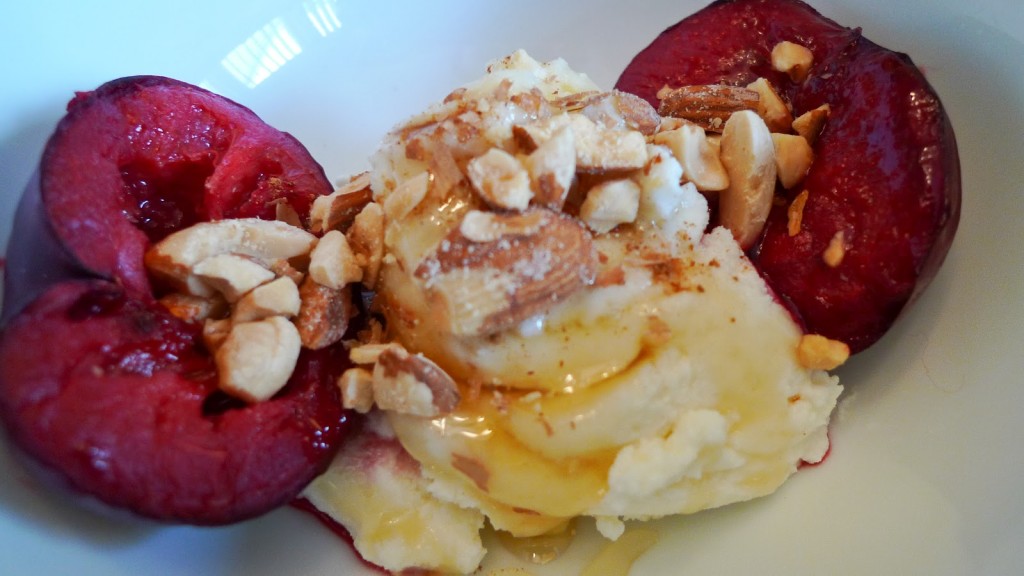 Last week I posted a recipe for Homemade Ricotta.  Did you try it at your house?  Did it totally blow your mind?  Now that you know how to be a Blessed Cheese Maker, here's an idea for what to do with your ricotta:  Roasted Plums with Homemade Ricotta!
Plums will only be around for a few more weeks before autumn rolls in and we have to say goodbye to summer fruit.  You can use any other stone fruit here – peaches or nectarines would be just as yummy.  You can also play around with the toasted nuts you use.  I had almonds on hand, but you can try pistachios, hazelnuts, or even walnuts.  My older daughter is allergic to all nuts, so she goes without, and you can too, if nuts aren't your thing.  Add a shake of cinnamon and a drizzle of honey and you have a nutritious, not-t00-sweet dessert!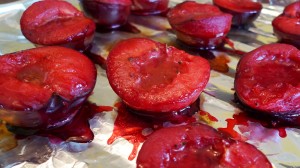 Roasted Plums with Homemade Ricotta
(serves 4)
Ingredients:
4 plums
1 teaspoon pumpkin pie spice or cinnamon
2 teaspoons honey, plus more for serving
1 cup Homemade Ricotta (or use store-bought)
1/4 cup crushed almonds, or other nuts, or cookies (amaretti would be super!)
Directions:
Preheat oven to 400*F.  Wash the plums, then cut in half and remove the stones.  Place all plum halves, cut-side up, on a foil-lined baking sheet.  Sprinkle with pumpkin pie spice or cinnamon, and drizzle with 2 teaspoons honey.  Bake for 20 minutes.
Remove from oven.  When cool enough to handle, you can slip off the skins if you want.  I like the extra fiber they add, so they stay on at my house.  To serve:  Place 1/4 cup ricotta in a dish, along with two plum halves.  Top with crushed nuts and a shake of cinnamon.  Drizzle with a little honey.
Explore, experiment, enjoy! — Dana
---
To view even more of Dana's unique recipe, you can visit her at Frugal Girlmet!