It's that time of year again when the kids have gone back to school and started playing sports. My nephew, Timmy, has started his football season.  So we decided to make shakers to take the game to help cheer him on. This is a great project to do with kids.  My son, Tristan, helped me fill up the shakers and my niece, Chloe, helped me decorate them.  We want to make some NOISE!!
Items needed:
Construction paper
Markers
Scotch tape
Scissors
Empty containers with lids.
Rocks, rice or other fillers
STEP ONE:
Rinse and dry containers.
Cover with construction paper.
Tape in place.
Decorate with team name,  player's name and number. Try to use the team colors.
STEP TWO:
Put rocks or rice in the containers.
Replace lid.
STEP THREE:
SHAKE! SHAKE!! SHAKE!!!   LET'S MAKE SOME NOISE!!!!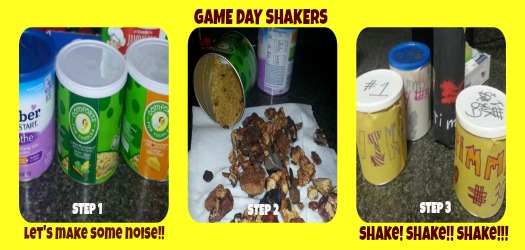 It's a great way to show the kids in your life you are rooting for them.
Have Fun & Happy Crafting!!