One day this week I felt like I had a complete do-it-yourself day.  I'm a single mom of two boys ages 11 and 1. I've had to learn to do a lot of things on my own that normally I would have gotten help with.
Today started out with us going shopping.  I'm a guru about finding stuff on sale. I found sunblock for $3, and a bathing suit top for $5.00. Remember to shop the clearance items to save money.  I also did a complete balancing act with a sleepy baby trying to check out.  It's amazing the things a mom can do with one hand.
After I picked up my son from school, I had to go home and mow the yard.  Thankfully, my son and my nephew helped babysit the baby while I did this.  For two days now, I have been trying to start the lawn mower and it would not start no matter what I did.  I remembered one time my neighbor sprayed some starter fluid into my lawn mower engine and it started right up.  So while I was at Walmart, I bought some engine starter fluid for $3.  I sprayed the starter fluid where the air filter went down into the carburetor and I was amazed all it took was 2-3 seconds of  spraying and it started right up.  You have to remove the air filter and replace it after spraying.  I was able to mow the yard and not have to ask someone for help or not have to take the lawn mower in to get it fixed.  I have to say it was pretty amazing that I was able to fix an engine.
My oldest son had gone camping with his dad over the weekend and he got chiggers.  His little legs are broken out very badly.  I have used a home remedy before on myself and it definitely works.  I used clear fingernail polish to cover every chigger bite. The nail polish will suffocate the chiggers and they will go away.  Needless to say,  I didn't have time to complete the craft I was going to use for the blog.  So that will be on my to-do list for next week.  The important thing to remember is that we all are able to do things on our own as long as we know how to do it and we just keep trying.  Having faith and believing that you can do things for yourself is a huge self- esteem booster and knowing that God will help you in every step of the way has helped me to believe in myself. The smiles on my boys faces are definitely worth it.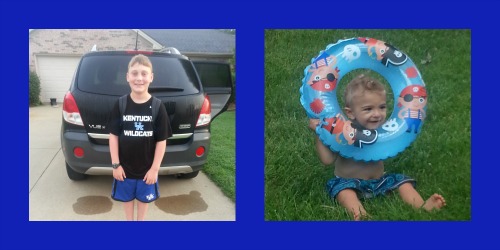 I hope my tips were helpful for you today!  I would love to hear some of YOUR tips, too!!
Enjoy!!
Amy