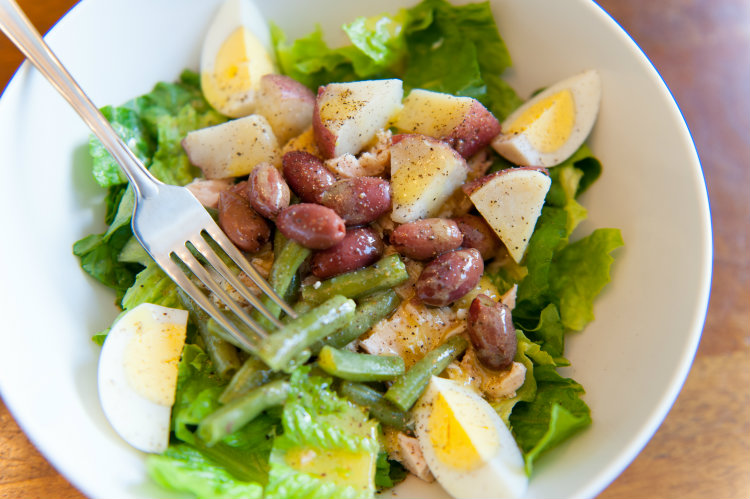 Salad Nicoise sounds fancy, doesn't it?  It makes me picture Paris fashion, little bistros with snooty waiters, and dining on vin and fromage by candlelight.  In reality, Salad Nicoise is just a dressed-up tuna salad!  This is one of my favorite dinner salads, combining satisfying protein, crunchy vegetables, and a few extra surprises.
Nothing too exotic to buy at the store here.  You probably don't have Nicoise olives at your store (I've never seen them grocery shopping around Los Angeles), but you can easily find a jar of juicy black Kalamata olives.  I use romaine lettuce (it's my absolute favorite!) but you can use any green lettuce, and I've eaten this on baby spinach too.  You don't want to use anything too bitter, though, so stay away from a salad mix that has a lot of frisee, arugula, or escarole.  I didn't have any in my fridge, but a couple of teaspoons of minced parsley would be nice sprinkled over the top.  You can use this as a jumping off point, and add in other ingredients you like:  tomatoes, diced bell pepper, pistachios, or capers.  Let your imagination run wild, French-style!
Salad Nicoise
(Makes 2 dinner salads.  Serve with bread and white wine if desired.)
Ingredients:
1 teaspoon Dijon mustard
2 tablespoons fresh lemon juice or wine vinegar (red or white is fine) plus one tablespoon reserved for potatoes

a pinch

 of sugar or one drop of honey
1/4 cup olive oil
1 5-

oz

. bag of salad mix or 2 heads of romaine lettuce, washed and chopped
3 or 4

hard-boiled

eggs
2 cans tuna, drained
1 large red- or white-skinned potato (Russet potatoes aren't as nice and fall apart – save them for baked potatoes)
8 oz.

fresh

green beans
1 jar

kalamata

or other large black olives

salt

and pepper

optional

:  minced parsley, basil or tarragon to sprinkle over top
Directions:
Make the vinaigrette:  In a small container with a lid, add the mustard, 2 tablespoons lemon juice or vinegar, pinch of sugar, and olive oil, and shake to combine.  (The pinch of sugar offsets the mustard and vinegar – you don't need to add it, but I think it mellows out the dressing a little.)
Boil a large pot of water on the stove.  Wash the potato and green beans.  Chop the potato into one-inch chunks, and cut the green beans into one-inch pieces.  Add to the boiling water and simmer the potatoes for about ten minutes, then add the green beans and cook for 3 minutes more.  You should be able to just pierce a potato with a knife or a fork, but you don't want the potatoes to break apart.  When the potatoes are done and just cooked through, drain the water, and sprinkle with the reserved tablespoon of vinegar.  Set aside.
While the potatoes are cooking, make a bed of the lettuce in 2 large salad bowls.  Peel the hardboiled eggs and slice into quarters, lengthwise.  Drain the cans of tuna and flake with a fork.  Layer the tuna and eggs over the lettuce.
Top the tuna with green beans, potatoes, and olives.  Season with salt and pepper.  Drizzle with the dressing and optional chopped herbs.
Explore, experiment, enjoy! — Dana
---
To view even more of Dana's unique recipe, you can visit her at Frugal Girlmet!