But the fruit of the Spirit is love, joy, peace, longsuffering, kindness, goodness, faithfulness, gentleness, self-control.  Against such there is no law.  

Galatians 5:22-23

You have already been pruned and purified by the message I have given you. Remain in me, and I will remain in you. For a branch cannot produce fruit if it is severed from the vine, and you cannot be fruitful unless you remain in me.   Yes, I am the vine; you are the branches. Those who remain in me, and I in them, will produce much fruit. For apart from me you can do nothing.

 John 15:3-5
I am a branch; this is a title that I willingly accept in my life.
When I think of a branch the first thing that comes to mind is the extension of a tree; simple, right?  A branch is a part of something much bigger than itself but plays a very important role in the success of the tree as a whole.  A branch at any time may be full of fresh green leaves, fruit, flowers even, but at other times the branch may be bare.  It is still alive and still connected to the tree but it is in a season of waiting—a season of needing to be content until it is time to bear fruit again. There are also those times when a branch may be broken, when the gardener needs to reattach it to the tree in a way only he can…to allow the branch to become reconnected to the tree.
I love how the relationship between God and man is illustrated.  I love how He can take something as simple and beautiful as a tree and give us a visual concept that applies to our everyday life.
Like Teresa said in today's reading, bearing fruit means more than winning souls to Christ (although that is a task we are assigned with).  Remember, being a branch means that we are an extension; we are to display the characteristics of Christ.
Love - Joy - Peace - Longsuffering - Kindness - 

Goodness - Faithfulness - Gentleness - Self-control
Displaying these characteristics is part of being a branch.  "We can only bear this fruit by the work of the Holy Spirit in our life."
What is listed above is a lot of fruit—a lot of characteristics that we are commanded to display. This can be very intimidating.  Yes, I pray that I can display all of these fruits of the Spirit.  But I understand that I am a maturing Christian, I am a maturing woman.  There may be times when I don't display any of them, and times where I only display one or two.
God's grace reminds me that His love for me surpasses my lack of bearing all the fruit at once. His grace also reminds me that I may be called to bear different fruits in different circumstances.
God has already "pruned and purified us."  He has already accepted us and appointed us. Ladies, let us daily remain in Christ so that we can bear His fruit and so we can be examples to others of the joy that comes from being branches of the I AM.
Don't forget this week's Memory Verse!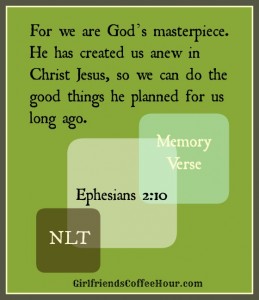 _____________
Let's Pray:
Dear Heavenly Father, thank You for giving us these fruits of the spirit.  Thank You for making plain what is expected of us.  Lord, please place on our hearts what fruit we need to display at what time.  Lord, remind us that we need to stay rooted in You, through prayer and through studying Your word in order to bear fruit.  In Jesus' Name, we pray.
AMEN