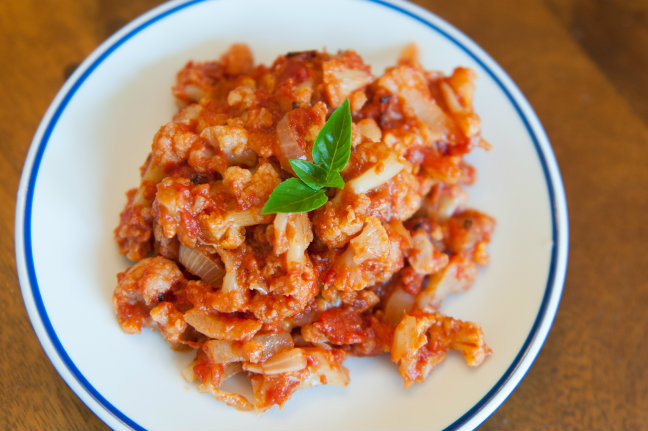 After I had my second daughter, my friend Sunita brought over dinner for my family.  Not only was that a lovely, thoughtful gesture, but it was a tasty one too!  Sunita made a huge casserole of baked rigatoni  and cauliflower in a spicy tomato sauce, spiked with gobs of melty cheese.  I won't tell you how quickly I ate up dinner (and all the leftovers) – but it was fast!  Here is a link to the original recipe.  However, my husband and I don't eat pasta anymore, and my girls aren't really that into it either.  I wanted to see if I could make the same tasty dish, simplified a little, without the noodles.  I think I did!
Baked Italian Cauliflower is a tasty side dish and will go well with baked meatballs, chicken breasts, whatever you have going!  The only ingredient that may be a little difficult to locate is the cheese.  The recipe calls for 8 oz. of fontina, which is a semi-soft, creamy cheese.  It melts like a dream!  If you can't find it, you could substitute 2/3 cup shredded mozzarella and 1/3 cup shredded swiss cheese.  It won't be exactly the same, but you'll still get the gooey, smooth texture from the mozzarella and a little bite from the swiss.  As for the pepper, I used one of those red pepper flake packets that always comes to your house when you order pizza.  Do you have as many of those packets in a kitchen drawer as I do?  If not, use other red pepper flakes, or even a 1/2 teaspoon of Sriracha or other hot pepper sauce.  I'll let you decide how spicy you want your dish to be.  For me, the pizza pepper packet was enough!
Once you make this (and love it!) you can add in other things to your cauliflower casserole:  cooked Italian sausage or ground beef, slices of summer squash, or some very finely chopped herbs – basil and parsley would be yummy.  Bake this tonight and tell me how you like it!
Baked Italian Cauliflower
Ingredients:
1 large head of cauliflower
1 onion
8 ounces fontina cheese
1-14 ounce can fire-roasted tomatoes
1-6 ounce can tomato paste
1/2 teaspoon red pepper flakes, or more, to taste

salt

and pepper
Directions:
Preheat the oven to 400*F.  Wash the cauliflower and cut out the core, then chop into bite-sized florets.  Microwave in a covered bowl, with a few tablespoons of water, for 8-10 minutes.  The cauliflower should be cooked but still firm.
Drain the water off and add the cauliflower to a very large mixing bowl.  Chop the onion into very thin slices and add to the cauliflower.  Dice the cheese into tiny cubes, about 1 centimeter square, and add to the bowl.  Mix in tomatoes, tomato paste, red pepper flakes, and salt and pepper.  Stir to combine.
Pour cauliflower mixture into a large casserole dish and bake for 45 minutes.  Keep an eye on it towards the end to make sure any exposed cheese doesn't get too brown.  Serve hot!
Explore, experiment, enjoy! — Dana
---
To view even more of Dana's unique recipe, you can visit her at Frugal Girlmet!