David is a man after God's own heart (Acts 13:22). Although he made many mistakes and suffered the consequences, he had a real, intimate relationship with His Lord. His writings in the Psalms are raw and beautiful. They have, and will continue to, spoken to the hearts of those who read them. The Psalms reveal the humanness that we all feel – the pain, anguish, defeat, weariness, longing, sorrow and fear. They also show that despite those negative emotions, David continued to give thanks and praise to His God. He found joy in the Lord, in following the path set before him. I actually look to David as someone to model in this regard. Yes, he made some terrible, regrettable mistakes (me, too!), but his heartfelt prayers to His Lord are sincere and genuine. He laid all of his emotions at the feet of God, baring his heart and soul. Do you notice that many of his Psalms begin with anguish but end with praise and thanksgiving toward the Almighty? Through the process of praying and telling God his needs, his attitude is transformed from sorrowful to thankful. I think that is pretty incredible.
David anguished over being scorned and despised, poor and needy, insulted and lonely. He suffered and was in pain. Do you think any of those apply to Jesus? He was mocked, ridiculed, unfairly judged, harshly criticized, and unjustly punished. And this is the Savior of the World! His own people did not believe He was the promised Messiah!
As we read through the Psalms, we find prophecy of our suffering Savior, our Messiah, Jesus Christ. These messianic psalms were written hundreds of years prior to Jesus' birth! The Great I AM knew that His begotten Son would be the Savior of the world. Every detail throughout the entire Old Testament all leads up to the revelation of Jesus and the fulfilled prophecies in the New Testament. Can you find examples of prophecy in the Psalms and corresponding fulfillment in the New Testament?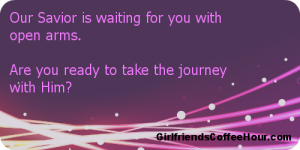 Sometimes we may have a difficult time relating to Jesus. We may have an inaccurate view of who He is based on our past or on preconceived ideas. We may see Him as this thundercloud waiting to strike us down if we do something wrong. Girlfriends, I just want you to know one very important thing as we begin this study – Jesus is and always will be LOVE. Satan will do anything in his evil power to make you think negative things about Jesus. That is the enemy's job. Jesus loves every single one of us with an all-consuming love. That is why He came to earth as a human, suffered and died a sinner's death. It was out of LOVE for us. He wants to know you. He wants to walk through life with you. There is not one situation in your life that He does not know about and want to help you with. He may not change your circumstance, but He just might change YOU.
Our suffering Savior is waiting for you with open arms. Are you ready to take the journey with Him?
God Bless You!
Jennifer
*****
Let's Pray
Father God, thank You for the Psalms. They are filled with so much raw emotion that we can relate to on a very deep level. They help us through so many circumstances that we face in our lives, giving us hope and comfort and peace to take one more step forward when we just want to give up. We know, Lord, that You divinely orchestrated this entire world and every single one of us that live in it. Reveal Your power and love to each one of us today, Father. Give us the strength we need to fight off the enemy's attacks. In Your Son's Name we pray.
Amen