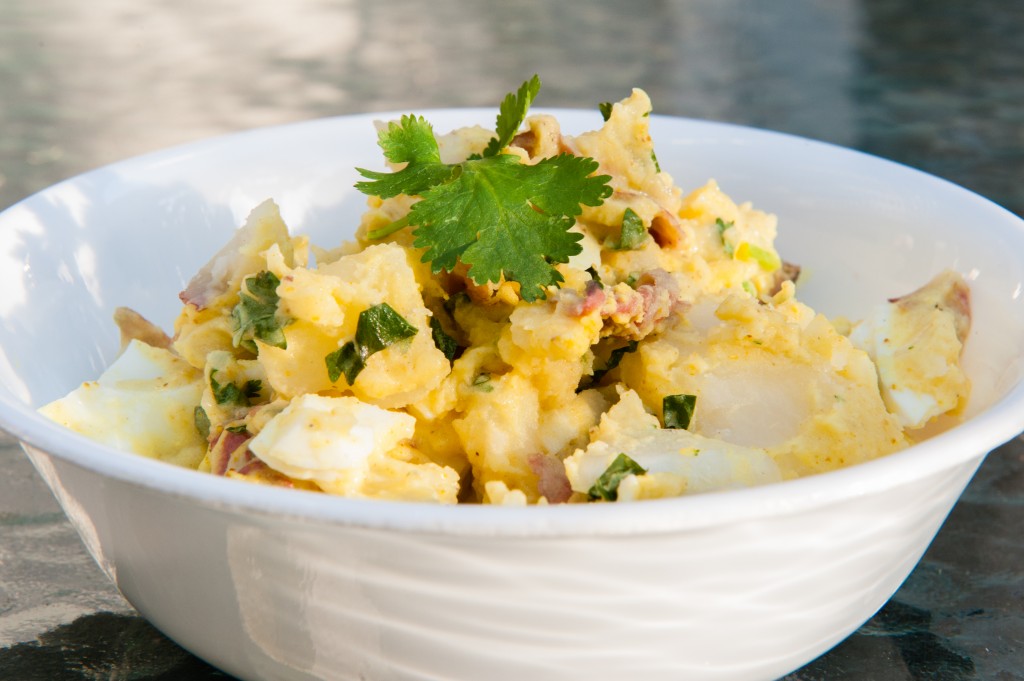 No matter what you think of Martha Stewart, you can't argue that she doesn't know what she's doing in the kitchen.  Sometimes when I'm looking around for inspiration and new recipes, I come across something that I might be on the fence about.  Maybe it sounds unusual, or I don't know if I can make it right, or sometimes the measurements or directions don't seem correct.  But when you make a Martha Stewart recipe, you know you're going to end up with something pretty good.  And that's what you get with this recipe for Curried Potato Salad!
My husband bought me the Martha Stewart Living cookbook 12 years ago, and we've certainly gotten our money's worth out of it.  This was one of the first recipes we made and it has become a family favorite – my Dad, in particular, requests it.  Every ingredient is easy to find in the grocery store, although you may have to look a little harder for cilantro and curry powder, depending on where you live.  Trust me (and Martha) – this recipe is a keeper!
Curried Potato Salad
(Recipe courtesy of Martha Stewart Living)
Ingredients:
3 pounds baby white potatoes, scrubbed (I've used red potatoes, too – just make sure they are small, and all the same size)

1 tablespoon plus 1 teaspoon salt
2 tablespoons white wine vinegar (I've used red wine vinegar too – it's fine)
5 large eggs
1/2 cup plus 2 tablespoons homemade mayonnaise, or from a jar
3 tablespoons curry powder
1 medium onion, very thinly sliced
1/4 cup fresh cilantro, finely chopped
Directions:
Place potatoes in a large pot with enough water to cover by several inches.  Bring to a boil over high heat, add 1 tablespoon salt, and reduce to a gentle boil.  Cook until potatoes are tender when pierced with a knife, 15 to 20 minutes.  Drain into a colander. Using gloves or paper towels to protect  your hands, cut potatoes into wedges while still hot.  Drizzle with vinegar, and set aside to cool.

Place eggs in a small pan with enough water to cover by 1 inch, and place over medium-high heat.  When water comes to a boil, turn off heat, cover, and let stand for 13 minutes. Drain, and place in a bowl with cold water to cover. When cold, peel hard-boiled eggs, and cut into quarters lengthwise.
Place mayonnaise, curry powder, and remaining teaspoon of salt in a large bowl; whisk to combine.  Add potatoes to mayonnaise mixture.  Add eggs, onion, and cilantro.  Stir to combine.  Chill until ready to serve.
Explore, experiment, enjoy! — Dana
---
To view even more of Dana's unique recipe, you can visit her at Frugal Girlmet!