This is a recipe I was a bit hesitant to try at first.  I thought it was going to take a lot of time to make; but I was pleasantly surprised to find just how easy Granola is to make!  I love eating it with a little milk, or served on top of plain yogurt.  My husband even used it on top of his vanilla ice cream!  I hope you will give it a try, and then let me know what you thought of it!
Homemade Granola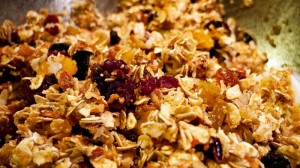 INGREDIENTS:
2 cups rolled oats
1/2 cup dried craisins
1/2 cup raisins
1/3 cup shelled sunflower seeds
1/3 cup slivered almonds
3/4 cup shredded coconut
1/2 cup honey
1/2 cup maple syrup
1/4 cup flaxseed
1/3 cup grapeseed (or olive) oil
*You can add other dried fruits, as well.  But craisins and raisins are our favorites!
DIRECTIONS:
Preheat oven to 325 degrees.
Mix all ingredients together in a large bowl.  Spread out loosely on a large cookie sheet sprayed with cooking spray.
Bake 25 minutes; stopping every 10 minutes to stir granola.
When finished baking, take out of oven, stir again; allow to cool down on cookie sheet.
After granola has cooled down, store in air-tight container.
Happy Eating!