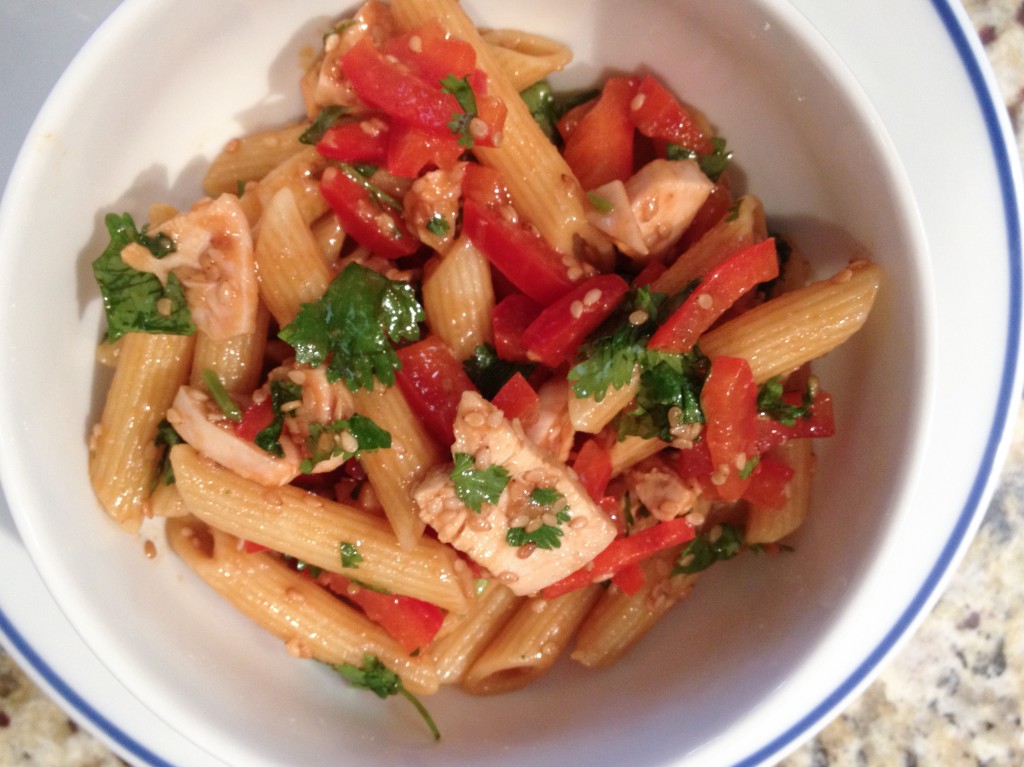 This is a recipe my sister used to make 20 years ago.  I think it came from a cookbook she had, which has since been lost in the shuffle of life.  I replicated as closely as I could when I had to bring a dish for a potluck at my daughter's school.  This Asian Pasta Salad is great alternative to macaroni salad, especially in the summer, since there's no mayonnaise to worry about.
Use any small pasta shape you like.  I usually like to use bow-ties, but I was out of them for this go around.  To save time, you can cook the chicken the night before you plan to eat this.  I think next time I make this, I will add pea pods and diced green onion.   Those weren't in the original recipe, but I bet they'd add some sweet, crunchy interest!
Hoisin sauce is widely available, and if your grocery store has an Asian section, I'm sure you can find it – look for a little jar, next to the soy sauce.  You could substitute a jar of Plum Sauce if you can't find Hoisin.  Hoisin sauce is great for any kind of stir fry you make at home, so I doubt it will go to waste.  The dressing for the Asian Pasta Salad is also tasty on a more traditional "Chinese chicken salad" with shredded cabbage, diced chicken, green onions, slivered almonds, and mandarin orange segments.
Asian Pasta Salad
Ingredients:
4 tablespoons Hoisin sauce
1 tablespoon rice vinegar
3 tablespoons sesame oil

1 pound box of dried pasta, small shape preferred (macaroni, mini-shells, or bow-ties work well)

2 chicken breasts, cooked, cooled, and chopped
2 bell peppers (try to get at least one red bell pepper), cut into very thin slices
1/2 bunch fresh cilantro, chopped
salt and pepper
2 tablespoons sesame seeds
Directions:
Boil the pasta, following the directions on the box.   Don't overcook!

While the pasta is cooking, in a small container with a lid, shake together the Hoisin, vinegar, and oil.  When the pasta is done, drain and pour into a very large bowl.  Pour the dressing over the pasta and toss well.
Add the chicken, peppers, and cilantro to the bowl and toss to combine.  Taste for seasoning, as you will probably need salt, and may prefer a little pepper.  Sprinkle with sesame seeds and toss again.  Chill for at least an hour, or until ready to serve.
Explore, experiment, enjoy! — Dana
---
To view even more of Dana's unique recipes, you can visit her at Frugal Girlmet!