Wielding the Sword of Silence is very tricky, especially when the battle we are fighting against is personal.  It is easy to toss out a careless word or comment, to pass on gossip or to share in a conversation about another person.  This is something we all struggle with on some level, I think. As I was studying through this section of the chapter, I kept going back to Proverbs.  There is so much wisdom regarding quarrels, friendships, and revenge that I thought I would structure this blog post around three Proverbs as they relate to wielding the Sword of Silence during our individual struggles.
We'll start with the one our author mentions: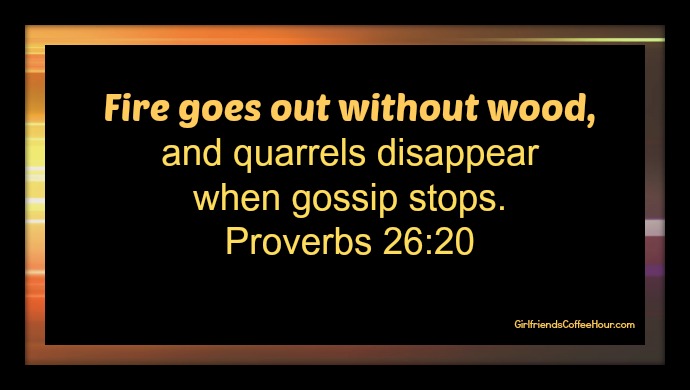 Have you ever been the target of gossip? Perhaps you have engaged in perpetuating a bit of gossip? Sadly, I have witnessed enough of this outside the realm of the high school hallway to know it is not just teenagers who deal with this – it is a divisive adult issue as well. But gossip will only continue if we fan its flame. The anger and the hostility only continue when we give it fuel to burn. If we make a choice not to take part in gossip, we are removing a piece of wood from the fire. The proverb says that quarrels will disappear when gossip stops. We have to make a choice to stay silent, to not be angry, and to entrust the situation to our God. Instead of gossip, I offer you another solution – pray. Whatever the situation, take it to the Lord. He wants to help you through it, no matter what it is.
A troublemaker plants seeds of strife;
gossip separates the best of friends. (Proverbs 16:28, NLT)
Sometimes gossip begins between friends. When it is allowed to perpetuate, a division will most likely occur unless someone wields the Sword of Silence. We must remember that Satan is at work in this world. He is trying to find a foothold anywhere he can. It could be in your best friend's life or even a family member. This could potentially provoke someone to planting seeds of strife within a friendship or family unit. We must always be on guard and recognize that "we are not fighting against flesh and blood enemies but against the powers of the dark world" (Ephesians 6:12). It is imperative that we rise up, stand strong, and be warriors – warriors who sometimes need to be SILENT.
Don't testify against your neighbors without cause;
don't lie about them.
And don't say, "Now I can pay them back for what they've done to me!
I'll get even with them!" (Proverbs 24:28-29, NLT)
Oh sweet revenge. I am sure there has been a time in your life that you have thought about paying someone back for a wrong they committed against you. Now, whether you actually followed through on that is irrelevant. I submit to you that we should not even think it. Revenge is the way of the world. It is not God's way. We are called to be messengers of light and life, not of gossip and revenge. You may have a terrible offense committed against you that is deserving of revenge. I am sorry if this has happened to you. God will take care of it for you. You must entrust it to His care and let it go. Remember, dear sister, Jesus was arrested, tried, convicted, and put to death an innocent man. During the course of His trial and conviction, He had many opportunities to plead His case, but He remained SILENT. He knew that His Father was taking care of everything. We must have that same trust. He is the SAME GOD who raised Jesus from the dead. You are not alone.
We all have our individual struggles, but we were not created to handle them on our own. God is right there, waiting for you to call on Him. He wants to change our hearts. Be still; be silent. Let God speak to you and then do what He says.
*****
Let's Pray:
Father, we come to You with so many struggles. It is so difficult to remain silent sometimes. Lord, we pray that You give us wisdom and guidance to say the right thing when You want us to speak and to help us be silent when we need to be quiet. We know that You are in control and You are sovereign over EVERYTHING. Help us to trust You always, no matter what situation we face today. In Jesus' Name we pray, Amen!
Have a Great Week!
Jennifer