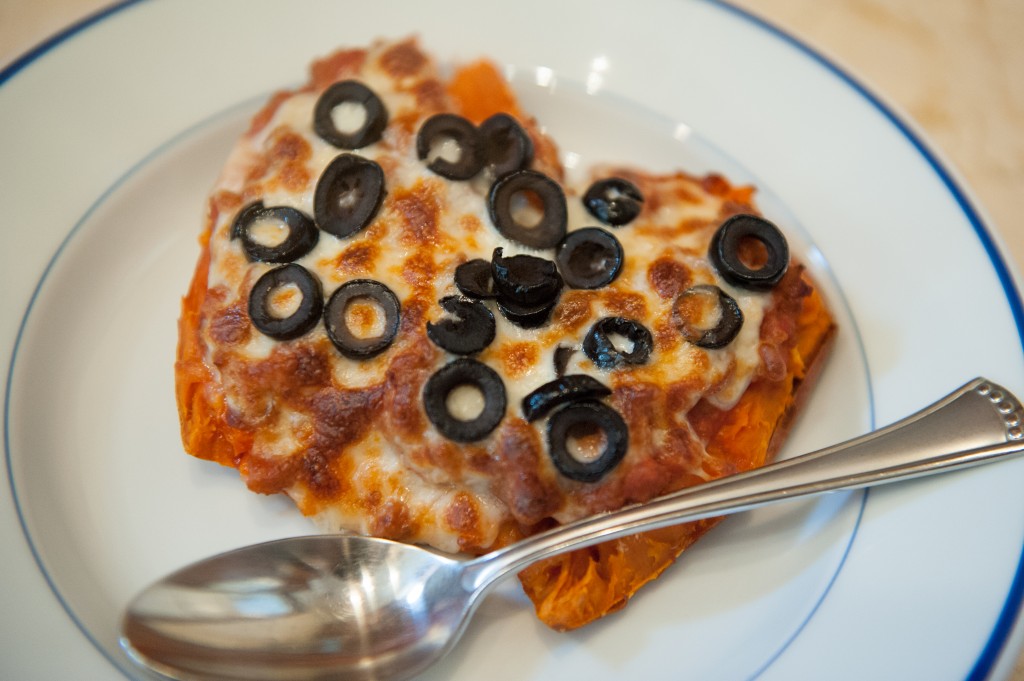 My husband is a big inspiration to me.  He made a resolve to take his fitness seriously, and keeps me on the right track when I am tempted to go off the rails.  As I was searching online for dinner inspiration, he looked over my shoulder and said, "OOH, I want THAT!"  It sounded weird and unappetizing to me, but I humored him and made it anyway.  What was it?  Sweet Potato Pizzas!
And boy am I glad I listened to him!  Whether you are craving pizza or just want a healthy, fun side dish, this is the way to go!  For the sweet potatoes, choose medium-sized ones that are not too skinny.  They should be about the size of your hand.  I recommend using Italian sausage, because the fennel seed adds a fantastic contrast to the sweet potato.  Use any toppings you like – kids love pepperoni!  In the summer, I microwave the sweet potatoes and then finish them in the toaster oven, but you can do the whole thing in your regular oven if you like.
We eat these as a side dish, with a salad and baked chicken breasts.  Take a chance, like I did, and try this tonight!
Sweet Potato Pizzas
(Makes 2 servings)
Ingredients:
2 medium — large sweet potatoes

1 cup tomato sauce, canned or homemade
1/2 pound ground Italian sausage
1 cup shredded mozzarella cheese
1 small can sliced black olives
Directions:
Wash the sweet potatoes.  Scrape off any eyes or weirdness on the outside, then poke several times with a fork.  Wrap in a slightly damp dish towel and microwave until done.  (My microwave takes about 6 – 10 minutes depending on the size of the potatoes.  You'll know they're done when you can squeeze them and they yield to your hand – kind of squishy inside.)  Remove from the microwave, unwrap and let cool a bit.

While the sweet potatoes are cooking, crumble the sausage into a frying pan.  Cook until no longer pink.  Drain away any grease, then add the tomato sauce.  Heat over low heat until the sauce is hot.
Slice the sweet potatoes in half lengthwise.  Place them on a foil-lined baking sheet, and mash up the insides.  (I kind of cut-and-fluff them.)  Spoon half the sausage-sauce mixture over each potato.  Cover with shredded mozzarella, then sprinkle with black olives.  Bake or broil until the cheese melts.  Serve hot!
Explore, experiment, enjoy! — Dana
---
To view even more of Dana's unique recipes, you can visit her at Frugal Girlmet!