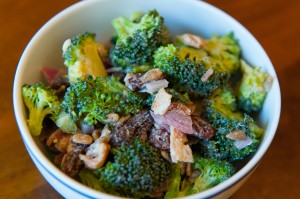 Bacon!  Did that get your attention?  (My husband's ears always perk up when he hears that word.)  This salad is a family favorite.  I love vegetables of every kind, but it's nice to take a break from lettuce-based salads.  You probably have everything you need for this salad at home already.  If not, pick up some broccoli and let's get to it!
Broccoli Bacon Salad
Ingredients:
one pound small broccoli florets, about 7 cups

1/4 cup minced red onion
1/4 cup sunflower seeds
1/4 cup raisins
4 strips bacon
3/4 cup mayonnaise
1 teaspoon lemon juice or apple cider vinegar
1 teaspoon sugar, honey, or other sweetener of choice
salt and pepper
Directions:
In a large bowl, gently toss together the broccoli, onion, sunflower seeds, and raisins.

Cook the bacon until done – I like it crunchy rather than chewy.  Drain and dice.  Add to the bowl and combine.
Mix together the mayonnaise, lemon juice, sugar, and salt and pepper.  Pour over the broccoli mix and toss to combine.  Taste for seasoning – I usually add a little more lemon juice over the top.  Chill for an hour before serving.That's it!  This salad is nice the next day, too, since the broccoli softens up a bit.
Explore, experiment, enjoy! — Dana
---
To view even more of Dana's unique recipes, you can visit her at Frugal Girlmet!