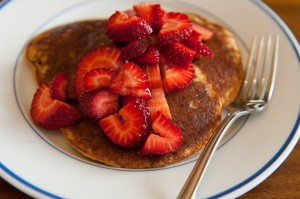 Through my gym, I am doing a Paleo Challenge.  For 5 weeks I am cutting all processed foods out of my diet, as well as some other "irritant" foods, so no sugar, no grains, no legumes, no dairy, and no alcohol.  The goal is to eat the way our "caveman" ancestors ate, with the belief that all the chemicals and lab-created foods we eat are not good for us, and that our bodies work the way they're supposed to when we only eat meat, vegetables, fruits, nuts, and fats (like olive oil, coconut oil, and avocado).  Just the way God created us!
Does that mean that all the "fun" foods are off limits?  No!  No grains mean no flour, no oatmeal, no corn—and that takes a lot of American food off the table.  Coconut flour, to the rescue!  This is flour made from the dried and ground flesh of the coconut.  It's full of protein, has lots of fiber, is gluten-free, and is pretty all-around great for you.  It's much coarser than wheat flour, so when you make these pancakes, they won't be the cakey, smooth type you get at a diner.  These are more substantial, and they keep and reheat well.  The next day after I make them, I like to nibble on them, slathered in homemade almond butter.  Yum!
Coconut flour can be found at Whole Foods, other health food stores, and online at Amazon.  I like Bob's Red Mill brand, but there are others out there too.  A one-pound bag will last you a while, so don't think you're getting cheated.  Just keep it in a Ziploc bag in your pantry, and stay tuned for more coconut flour recipes from me.  I'm in love with the stuff, and I can't wait to share.
Coconut Flour Pancakes
(Recipe courtesy paleospirit.com)
Ingredients:
4 eggs, room temperature

1 cup coconut milk (you can use regular milk too!)
2 teaspoons vanilla extract
1 tablespoon coconut nectar (or honey, or 1 packet of stevia)
1/2 cup coconut flour
1 teaspoon baking soda
1/2 teaspoon salt
1/4 teaspoon cinnamon (or pumpkin pie spice!)
coconut oil for frying (you can use cooking spray to coat a non-stick pan, too)
Directions:
Beat eggs in a stand mixer (or just whisk mightily!) until frothy.  Mix in milk, vanilla, and sweetener.

In a small bowl combine coconut flour, baking soda, salt and cinnamon.  Mix together.
Whisk flour mixture into egg mixture and blend well so there are no lumps.
Grease pan with coconut oil (my favorite!) or, if you are a using a good non-stick pan, spray with cooking spray.  (Side note:  Trader Joe's sells both coconut oil in a jar, and coconut oil cooking spray.  Love!)  When the pan is hot, use a large tablespoon to pour out pancakes.  I make mine about 4 inches in diameter.  These are thick, and you may need to smooth them out a bit.  Cook until dry on top, just like regular pancakes, about 2 or 3 minutes, then flip and cook for another minute or so.  Serve hot!
This recipe makes 12-16 pancakes, depending on the size.  Store any leftovers in a Tupperware container in the fridge – they reheat nicely in the microwave, or eat them cold with nut butter, cream cheese, whatever you like.  My older daughter is a traditionalist and likes hers with butter and maple syrup.  My younger daughter likes her with fruit and maple syrup.  I  like them with sliced bananas, walnuts, and some flaked, unsweetened coconut on top – tastes like Hawaii.  😉
Explore, experiment, enjoy! — Dana
---
To view even more of Dana's unique recipes, you can visit her at Frugal Girlmet!