Girlfriends, after reading this week's chapter, I cannot wait for our next study to start. I just know that God is preparing us for great, awesome things, and I am certain that we will come out victorious when we follow His plans for our lives. I want to encourage you to sign up for our next study if you have not done so yet.  Go to our sign page located HERE to enroll today!!
On Monday, Jackie's prayer for us was that we will be prepared to fight our daily battles knowing that we are more than conquerors. Christ won the battle on the cross for us, and we need not fear for THE  BATTLE BELONGS TO THE LORD. Face each day like a true Warrior Princess. Not only are you beautiful, but you are also wise, cunning, strong, courageous, and victorious.
On Tuesday, Tonya shared with us that emotional attacks in life are very real. These attacks are not limited to our minds, or our hearts, but are aimed at our bodies as well. Satan is out to hurt us, and he will do so at any cost. Although Satan has his ways to try to get us defeated, God's ways are stronger, more powerful, and made specifically to protect us.
On Wednesday, Carissa wanted to know from us whether we believe that each one of us are warriors in Christ. We have God's strength to sustain us when we feel we can't take another step, another breath, another disappointment, another insult, another negative feeling. Talk to God, share with Him, rest in His presence and in His control over things that may seem uncontrollable. Nothing is too much to handle for our God.
On Thursday, Michelle reminded us to remember that we are warriors. Each day we must put on the armor of God to battle the demons that Satan sends our way. No one is immune to it, but the more we prepare ourselves for battle, the better our chances are to conquer the enemy each and every day. Stay strong, be prepared, and depend on God!
Girls, God wants us to succeed! Let's be strong and equip ourselves with the full armor of God at all times.
Let's Pray:
Father, thank You for equipping us so that we can be more than conquerors at all times and so that You can get the glory. We love You and need You, Amen.
*****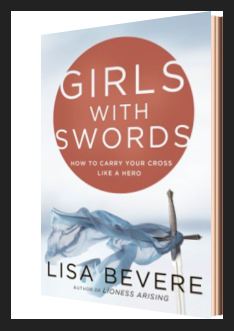 Sign Up Today!