Warrior women are strong yet vulnerable women, women rooted in Christ Jesus who know whose she is and therefore know who she is.
I love that description.  Who wouldn't want to be that woman?  I know I do.  When I see that description I picture a confident woman.  Confident not because of the way she looks or what she does, but for who she is in Christ.  That kind of confidence opens doors that no other can.  When you have confidence in Christ, you can be yourself, you can be loving, you can be vulnerable.
Be yourself?  I know that many times I will not say or do something because I worry about what people will think.  I can't state my opinion because then that person may not like me anymore.  I can't dance around the park being a goofball with a friend or my son, people may laugh or stare.  I can't sing that solo at church because I may mess up and everyone will know I'm not perfect. (And yes, I overcame that one two weeks ago!)  How much better would it be if I was secure enough that I could state my opinion, dance around or sing that solo because it's ok.  My opinion is just as valid as anyone else's, I can have fun, and if people want to make fun, that's their issue not mine, and what would be the worst thing that would happen if I messed up my solo?  God still loves me, and He is the One that created me to be the opinionated, goofy, imperfect singer I am!  And isn't that what's important?
Be loving?  When you feel loved by our One True God, it is much easier to give that love away.  When we feel the true love of Christ, we have an amazing example to follow.  We can love our family, friends and yes, even strangers, with a kind and mercy-filled love that is only available to those who live in Christ.  You may have heard the saying "hurt people hurt people?"  Well, loved people love people.
Be vulnerable?  This one makes me want to run in the other direction!  If you have faced any hurt in your past, the thought of being vulnerable, to opening yourself up to that kind of hurt again may be more than you think you can handle.  Child, guess what?  God is right there in that fear!  How much better would it be to be so secure in Christ that you can take any chance, form any bond, go anywhere and know that no matter what happens, you will be ok.  And not because of anything you will do, but all because of what He will do in you.
Remember, ladies, we are warriors.  Every day we must put on the armor of God to battle the demons that Satan sends our way.  No one is immune to it, but the more we prepare ourselves for battle, the better our chances are to conquer the enemy each and every day.  Stay strong, be prepared, and depend on God!
*****
LET'S PRAY:
(Today I would like to use the beautiful prayer that ended this chapter.)
I now put on with thanks the armor which You have provided for me – girding myself with the belt of truth; binding up all that is vulnerable of my femininity; first my need to be pursued and fought for.  Thank You for daily pursuing me and fighting for me as well.
I also gird up my desire to be irreplaceable in a grand scheme of Yours.  You have placed this desire within me and I wrap Your truth around it, in hope of what You will do.  Grant me eyes to see each day in light of Your activity, to live in the bigness of Your story.
I gird up my desire to offer life through my gifting, the beauty You have bestowed on me.  I ask You to continue to reveal and confirm what You desire to do through me and all You have given to me.  I trust that You have called me by name and have given me a love, a beauty, a gift to pour out on my family, my friends, and those You bring to me.  May this day be an offering of love poured out before You on the altar of my life.
*****
Our next Online Bible/Book study beings March 25th.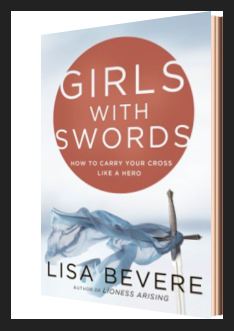 To sign up for this study, click on the picture above and complete the registration process.  As soon as we receive your registration, we will email you further details.  We hope you will join us for this amazing study!!