As we have seen, intimacy is not only an issue when dealing with relationships between men and women, but just as equally between women.  Friendships can go through the same challenges as any other relationship.  There are expectations, hurts, dependencies, and disappointments.  It is how we deal with these challenges that will determine the strength of your friendship.
Communication is essential in any successful relationship.  This isn't always easy.  If you are like me you may not like to "rock the boat."  It is easier to not say anything than to lovingly confront your friend.  While that may be a temporary band-aid that will cover the issues, it will inevitably lead to an infectious resentment or hurt.  As many, if not all of us, can relate, if we don't talk about an issue when it first comes up, chances are that it will come out later in a more explosive, less loving manner.  That doesn't serve any relationship well.  Talk, repent and forgive.  Love like Jesus.
"In your relationships with one another have the same mindset as Christ Jesus" 
Philippians 2:5
Another important aspect of a successful relationship is your own personal security of your identity in Christ.  I definitely saw myself in the examples given by the author of this book in comparing our "fallen" selves to our "redeemed" selves.
Fallen women want people to come through for them.  Redeemed women knows Christ has come through for them, and are more free to give of themselves and "put themselves out there."
Fallen women have been hurt so they withdraw from relationship to avoid further pain. Redeemed women know they are valuable and secure in the Lord, so they are able to be vulnerable.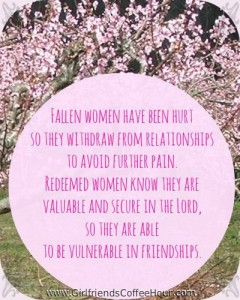 I don't know about you, but I thank God I am redeemed!  This, for me, was the ultimate "take away" from this section. No matter what we do, no matter the relationship, when we do it with the prompting and guidance of the Holy Spirt, and we do our best to love others like Jesus loves us, we can't help but find the intimacy we long for.  It won't always be easy, but it will be worth it.  God is so good, and I am so thankful for His faithfulness!
"A friend loves at all times, and a brother is born for a time of adversity."   
Proverbs 17:17
LET'S PRAY
Father, thank You.  Thank You for showing us what love is.  Thank You for giving us an example to follow.   Please help us when it is hard for us to face the tough stuff.  Give us Your strength, mercy, and grace as we deal with the relationships that mean so much to us.  Let us rest in the security of Your love, and be free to give that love to others.  In You, this is more than possible.  In Your Heavenly Name we pray. Amen.
YOUR ASSIGNMENT
Friendship is such a great gift! How can you nurture, guard, and fight for your friendships?
*******************
 If you would like to send Michelle a private email in regards to this blog post, you may email her at:  Michelle@GirlfriendsCoffeeHour.com
*******************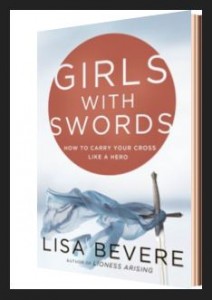 Girls With Swords by Lisa Bevere
Our next online Bible/Book study begins March 24th.  To register, click on the picture above, complete the registration form, and as soon as we receive your registration, we will email you further details.  We hope you will join us!
**********