Therefore, if anyone is in Christ, he is a new creation.
The old has passed away; behold, the new has come. 
2 Corinthians 5:17
Do you all remember those Transformer toys? Now, my memory is not what it used to be, but I think they would change from figures into vehicles or into different creatures and such. Am I close?  As I was reading through the three profiles in this section, the Lord kept whispering to me. Over and over again.  The same word.
Transform.
Transformed.
A life transformed.
All of the profiles we are reading in this chapter illustrate lives of regular, everyday people. People like you and me. Some went through struggles with gambling, addictions, even prostitution. But then they met Jesus Christ. And, similar to those transformer toys, once they met Jesus, their lives were transformed. Jesus washed away the ugliness of their past. He took their shame, their hurt, their despair, and transformed it into something beautiful for His glory. Their lives were forever changed by His love and grace at work in their lives.
George Mueller and his wife started an orphanage and did not seek out donations. When they had a need, they went to God in prayer. Every need they had was met. By prayer alone. Brother Yun was persecuted for his faith before escaping to Germany with his family. He is now involved in a movement to preach the gospel in all countries, cities, towns, and ethnic groups between China and Jerusalem. Shane Claiborne serves the very poor and broken in one of the worst neighborhoods of Philadelphia.
I am sure we can all recall a moment when we felt the transforming power of Christ at work in our lives. Maybe it was when you first accepted Him into your heart. Perhaps it was during a struggle when you leaned on Him more than you ever had before. What if you could take the gift Christ has given you—a transformed life—and partner with Him to transform lives of those around you?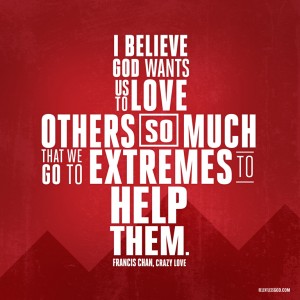 We are only limited by what we think we cannot do. God does not call us to do something that is impossible. He equips us to do the work He has prepared for us in advance to do.
So, let's put on our armor and step out in faith. Let's begin this revival, shall we?
*****
Let's Pray:
Father, You are all about transforming lives. You bring us out of the depths of despair and give us hope and peace that surpasses all understanding. Stepping out in faith is difficult, Lord, but we KNOW that You would not call us to do something that is impossible or that You will not equip us to do. And we KNOW Lord, that YOU will be with us every step of the journey. Stir a revival in our hearts, in our lives, and in each of our communities. Bring forth a renewed passion in us for serving You. Give us courage, Father, to take that first step. We can do ALL things through YOU who gives us strength. In Jesus' precious name we pray, Amen!
Your Assignment:
What is one thing you can do today to help someone in your path? It can be a stranger, a friend, or a family member. Pray and ask God to show you how you can meet a need today and then tell us about it!
*****
Our next online Bible study begins March 24th!
Click on the picture to sign up TODAY!! 
________________________
If you would like to send a private message to Jennifer in regards to this blog post, you may e-mail her at Jennifer@GirlfriendsCoffeeHour.com.