Here on our At Home with GCH blog, Mondays are always focused on healthy but oh-so-yummy! recipes.  This month we are going to spotlight vegetarian dishes.  Each Monday will actually be a Meatless Monday!  Now that we are <finally!> out of the winter months and moving towards S-P-R-I-N-G, we will have many more seasonal veggies available to us.  I'm thinking asparagus, baby salad greens, oh and my onion-of-choice, the Vidalia, has it's best offerings in the spring! 
This week we are making Veggie Stuffed Peppers!  This dish allows you to use the veggies that you already have in your refrigerator and the ones that you know your family will enjoy (and eat!).  We have these rice-stuffed peppers regularly in our meal rotation because they are so adaptable, and the variety keeps them from being boring.
Consider using red and yellow and orange (or even purple, if you can find them) bell peppers rather than plain green ones as their taste is much milder than traditional green peppers.  If you are having the stuffed peppers as your main dish, plan on 2 halves per hungry adult; but if serving as a side dish, then half of a pepper will probably suffice.  The proportions in this recipe are for four whole peppers.
Veggie Stuffed Peppers (makes eight halves)
cooked rice  (see recipe below)
olive oil
5 big red, yellow, or orange bell peppers
1 green bell pepper
2 medium Vidalia onions, diced small
5-6 good-sized Baby Bella mushrooms, diced small
3 tablespoons chopped garlic (I use jarred)
2 cups (your choice) chopped veggies*
½ of a 10 ounce box frozen chopped spinach–or kale! (defrost)
Kosher salt, freshly ground black pepper
2 teaspoons herbs (thyme, basil, tarragon)
1 cup (or more) shredded cheese, plus 1/4 cup to finish
4 cups cooked rice (see below)
1 cup vegetable broth (or water)
1 cup seasoned tomato puree or sauce
Get the rice cooking…wash your veggies…preheat oven to 425.  Lightly coat a large baking sheet with a small amount of olive oil.  Take (4) of the brightly colored peppers and cut in half, down through the stem.  Important to keep the stem on so that the peppers hold their shape during cooking.  Remove seeds and any whitish parts of the insides.  Place the halved peppers, cut side down, on the baking sheet and roast for 15 minutes…just 'til they start to get a teeny bit browned.  Remove from oven to cool.  Reduce oven temperature to 350.
Cut the other two peppers (one brightly colored, one green) in half, remove seeds, and chop into ½" dice.  Heat 2 tablespoons olive oil in a large saute pan over medium heat, then add onions and chopped peppers. Saute for 5 minutes; then add mushrooms, along with any veggies that need a little precooking (i.e., carrots, zucchini).  Cook for an additional 5 minutes or so.  Stir in other veggies of your choice along with the cooled rice; mix together well.  Season with salt, pepper, and herbs. Stir in shredded cheese.
Using your hands, scoop up rice/veggie/cheese mixture and stuff firmly into precooked pepper halves, mounding up slightly.  Distribute all mix among the pepper halves.  Place filled peppers into a 13X9 baking pan, filled side UP.  Pour broth inside the bottom of the baking pan.  Lastly, pour the tomato sauce over the tops of the filled peppers.  Cover tightly with aluminum foil.  Bake for 20-25 minutes.  Remove foil and sprinkle with just a bit more shredded cheese.  Place back in oven for 5 minutes 'til cheese is melted.  DONE!  Serve immediately.
*zucchini, carrots, cauliflower and/or broccoli florets, butternut squash, corn, baby peas, grape tomatoes, etc.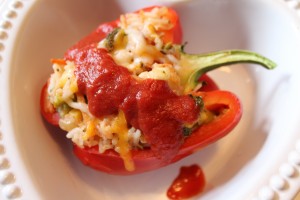 Cooked Rice
1 teaspoon butter or olive oil
1+1/2 cups rice (lots of choices out there!)
3 cups water or broth
salt, pepper
Easy-peasy!   In a medium saucepan, heat the butter or olive oil.  Add the rice and stir for one minute making sure all of the rice is coated.  Add 1 teaspoon each salt and pepper along with the water or broth.  Raise heat and stir well.  Bring to a quick boil, and immediately reduce heat to very low; cover pan.  Cook until water is completely incorporated into the rice.  Remove from heat, give a quick stir to fluff; set aside to cool.
God loves you!  ♥  (Don't ever forget that!)
♥  coleen
_________________________________
If you would like to send a personal message to Coleen concerning this series, you may email her at: Coleen@girlfriendscoffeehour.com