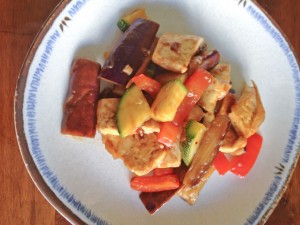 I call it "reverse-engineering" – when you eat something you really like at a restaurant, and then go home and figure out how to make it from scratch.  Have you ever done that?  It can be quite a challenge, especially if it's a dish from a cuisine you are not all that familiar with.  But sometimes it's good to challenge yourself, save some money, and make something healthy for your family that doesn't need a trip to the strip mall!
Case in point:  There is a chain of Chinese take-out restaurants with locations all across the country.  I won't name names, so let's call it "Black-and-White Animal Express."  They make a fantastic stir fry with tofu, Chinese eggplant, and onions.  I love it, and I figured I could recreate it at home.  I think I got pretty close!  The only ingredient that you may not have at home is Hoisin sauce, but I bet it's in your grocery store's "ethnic" aisle.  It's sweet and a little spicy and is a great sauce with just about any vegetable and meat combo stir fry—chicken and broccoli, beef and snow peas, you name it.  If you can't find it, you can try Plum sauce – it's a little sweeter, and you may want to add a splash of hot sauce to it to offset the sweetness.  If you can't find Chinese eggplants—they're the long skinny kind—you can use a regular eggplant, or just substitute a different vegetable altogether.  I had planned on adding 8 ounces of mushrooms to this recipe; and then realized I'd used them the day before.  There's always next time!
If you are looking for a Meatless Monday meal, or are craving Chinese take-out, why not give this a try at home?  Serve over rice and crack open a fortune cookie!
Chinese Tofu Stir-Fry
Ingredients:
1 package firm or extra firm tofu

vegetable oil
2 cloves garlic
1 Chinese eggplant
1 small onion
1 red bell pepper
1 zucchini
1 tablespoon Hoisin sauce, or more to taste
Directions:
Open the tofu, drain water, and place the tofu on a small plate.  Place another plate on top and gently squeeze out the water.  Leave the plate on top while you cut up the veggies.  Slice all the vegetables into bite-sized pieces: 2-inch strips for the eggplant, thin slices for the onion and pepper, and either strips or coins for the zucchini.  Mince the garlic.  When the vegetables are sliced, squeeze the tofu again, and then cut—first in half, then into squares, and then into smaller rectangles; they should end up around the same size as the eggplant.

Heat 2 tablespoons of vegetable oil in a large non-stick pot.  Cook the tofu for five minutes until it's golden, then flip and cook the other side.  When cooked and a little crispy on both sides, remove to a bowl.
Add the rest of the vegetables to the pot, adding a little more oil if necessary to keep everything from sticking.  Sauté for five to eight minutes over medium heat, stirring occasionally.  When the onion is translucent, and the eggplant is soft and taking on a little color, add the tofu back to the pan.  Cook for another 2 or 3 minutes.
Turn off the heat and stir in the sauce.  You want everything coated in sauce, but not smothered!
Explore, experiment, enjoy! — Dana
---
To view even more of Dana's unique recipes, you can visit her at Frugal Girlmet!
---
---
If you would like to contact Dana in regards to this blog, please email her at Dana@girlfriendscoffeehour.com