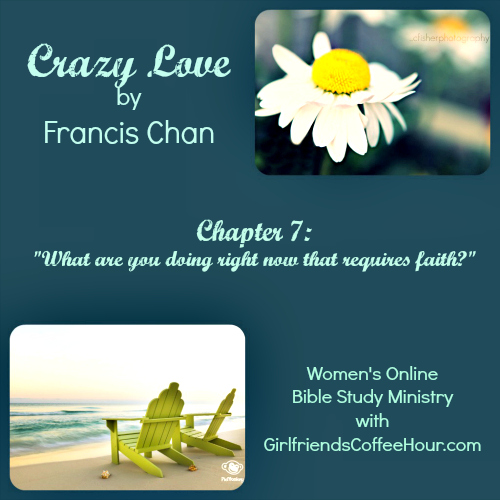 "What are you doing right now that requires faith?"  That is a profound question posed to Mr. Chan in this part of our chapter today. For some of us, we are holding onto faith for our next breath. For some of us, faith is getting through another day. And yet for some of us, it's doing what God has asked us to do, though it might not be something we're comfortable with.  Whatever it is, I think it's worth looking at and pondering.
I read chapter 58 of Isaiah and here are some things I am pondering:
The Israelites cried out to God and acted like they were a nation that was right with God and had not forsaken God's commands when in reality they were just going through the motions of fasting because it was required of them at that time.
There was a whole host of things that God wanted for them listed in the chapter, for instance:
He wanted them to break the yoke of all that entangled them in the day and set the oppressed free!

God wanted them to share their food with the hungry.

He wanted healing for them.

He wanted them to not turn away from their own flesh and blood.

He wanted them to stop pointing fingers at each other.

And most of all He wanted them to honor the Sabbath.
He told them when they did these things they would take delight in the Lord.
And isn't that still true today of us when we fast? We immerse ourselves in God, putting away all the things in our world that hinder us from meeting with God for a time. Isn't our faith bigger when we're done because we have dwelt in the presence of the Lord? We feel like we've heard from God and He has increased our faith, so we can step out and do more. God wants this for us! He wants us to shout His name from the rooftops unashamed! Living freely and able to share our faith whenever called upon is what God wants for us too!! We just need to grab hold of His hand and step out.
Are you ready………?
****************
Let's Pray:
Father, I pray we can holdour hands out to You and take that step that leads us into bigger faith for You. Increase our faith as we are obedient to Your call so that we can do even more. Let us live freely as You want us to and serve others more. Thank You for Your faithfulness to us, Lord. In Jesus' name, we pray.  Amen.
Your Assignment:
What steps can you take even today that God has been calling you to do that will grow your faith? Let us know so we can all pray for you as you step out in faith for God.
****************

If you would like to email a private message to Donna in regards to this blog, please email her at: Donna@girlfriendscoffeehour.com