I don't know about you, but I love the smell of cinnamon ANYTHING wafting through my house! So when I found a recipe for a cinnamon roll cake, I knew I had to take it and make it my own!  I hope you enjoy this recipe for Cinnamon Bun Cake as much as my family and I did!
Cinnamon Bun Cake
Cake:
3 cups flour
1/4 teaspoon salt
1 cup sugar
4 teaspoon baking powder
1.5 cups milk
2 eggs
2 teaspoon vanilla
.5 cup butter (1 stick), melted
Topping:
1 cup (2 sticks) butter, softened
1 cup brown sugar
3 tablespoons flour
1 tablespoons cinnamon
Glaze:
2 cups powdered sugar
5 tablespoons milk
1 teaspoon vanilla
Directions:
Preheat oven to 350 degrees. Spray a 9×13 baking pan with cooking spray, or grease and flour it. Set aside.
For Cake: In your mixer, add the flour, salt, sugar, baking powder, milk, eggs, and vanilla. When it is combined completely, slowly stir in the melted butter. Pour into the prepared pan.
For Topping: In a large bowl mix the butter, brown sugar, flour and cinnamon together until well combined and creamy. Drop spoonfuls over the batter and use a knife to marble/swirl through the cake.
Bake at 350 for 35-40 minutes or when a toothpick inserted near the center comes out clean.
FOR GLAZE: In a small bowl, mix the powdered sugar, milk and vanilla together with a whisk. Drizzle evenly over the cake. The glaze can be drizzled when the cake is warm or cooled.  I prefer it when it is cool, but it will work either way.  Serve warm or at room temperature.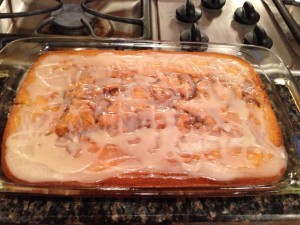 Enjoy!!