I made amends (or attempted to make amends) to someone I wronged, not directly, but by allowing others to do them harm and not stepping up and standing up for what is right. It's just as wrong to stand by and watch someone you love take abuse at the hands of friends, both of our friends. It was a long time ago yet I felt the Holy Spirit nudge me to make peace with her. To apologize for not standing up for her; for not stopping the madness but watching it happen, maybe even enjoying it. It didn't turn out well—my amends. Venom spewed from her side and I was left with more questions than answers.
The incident was years ago but to her it may as well been yesterday.  Aren't mamas that way when their children get hurt? But amends aren't about reactions, are they? They're about action on our part. It's about taking responsibility, and actually accepting, admitting what we did was wrong. We hurt someone else, whether sober or not, we did it. God calls us as His children to ask forgiveness from our peers. We may not get the warm fuzzies from the person we are apologizing to. We must not do this for ourselves or our own recognition, like "look how great Kim is for apologizing" or "Kim really has it together!" It's been about us for so long. It's time that it is about someone else or Someone Else. It's time our lives reflect Whose we are. Now that we have established THAT we need to make amends, we have to look at HOW to go about it in a way that most represents God's way.
Obviously we must spend more time in prayer over each one and let the Holy Spirit really guide and direct us on who we need to contact and how. (Don't you love the "empty chair" approach and the "fake letter?") Be careful though not to use these for the ones that deserve actual contact. The book gives us certain situations for which these methods are the only appropriate choice. This is between you and God. Use His guidance. First clear your mind, empty to fill, and let Him speak through you. Your day of freedom is here, deliverance from your regrets and mistakes. You've really allowed God to empower you to do the right thing—admit your wrongs.
From this point on, the past is the past and the future is wide open. The baggage of yesterday has been dropped. Oh yes, there will be more amends made along the way, and you will still have to apologize for mistakes to come and wrongs you will do, but the key now is not to hold resentments and to always promptly admit when you are wrong.
If you borrowed, return it. If you need to come clean with the law, do so. If you owe money, pay it. Let's be who He created us to be and let's be the light to others around us, who are still in darkness. We can guide others to Him by living our amends. For isn't that the best way—to live out our apologies?
Let's be different now and desire different lives than the old one. And most of all, may we desire what He wants for us!  So, how 'bout that list? Ready to start writing and righting?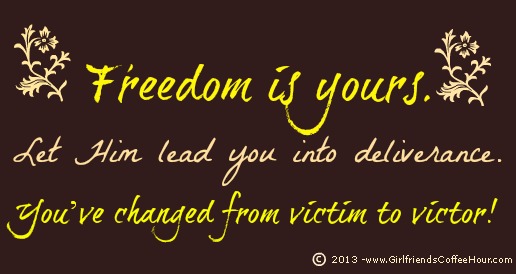 Scriptures that apply:
Matthew 5:23, 24
Job 11:13,15 and 16
Hebrews 12:15
Romans 12:18
Luke 6:33
_______________
Let's Pray:
Dear Lord Jesus, we praise You.  You never change.  You're the same yesterday, today and forever. Thank You for empowering us to do more than we ever could without You. Guide us as we make lists of our wrongs.  May we repent and release them to You. Speak to us, remind us what relationships need repairing and then give us the words to speak and when. For You bring healing to all. You make all things new.  The ones who refuse us, Lord, may we hand them over to You.  We love You. In Jesus name we pray, Amen.
Your Assignment:
Look up these verses and pray them to Him. Praying His word to Him is so powerful. Allow Him to speak through you as you make your lists and follow through with repairing relationships. Talk to your accountability partner about this. Let us know how it's going! Remember we are praying for you!
_______________
If you would like to email Kim directly in regards to this blog, please email her at Kim@GirlfriendsCoffeeHour.com