I'm sitting at my computer stirring my coffee, allowing the warmth, and the soft vanilla smell to wake me up on this beautiful morning. I had finished reading the first two sections of the chapter and the words are still working their way into my heart. There are times when I read the book that I will re-read, look up definitions, and look up Scriptures to help me understand what I've read. But this morning was different. As I was curled up in my favorite reading and writing spot—the corner of our love seat—the words I was reading were an echo of what God has been speaking to me for quite some time. Hiding wounds and building walls around them is something that I have, unfortunately, become very good at. Some wounds are old while others are still fresh.
I wasn't letting anyone near these wounds, especially not God. These wounds were destroying my heart, they were starting to show in other areas of my life because I had set up walls, I had refused access. I was taking care of it.
God had to "thwart" me. He had to step in front of me and stop all my ways from working. This summer was the time in my life when I came back to Him, wounded and aching.
I want to clear something up first: I hadn't strayed so far from Him that I was completely living in the world. I was still going to church regularly.  I was still being kind to others. I was still trying to live the good Christian life.  My wounds were well-hidden. To be wounded, and in need of God's healing touch, does not mean you have to be the prodigal daughter, the one who has abandoned all of her childhood teaching to go explore the world.  It means that life's hurts, whether self-inflicted or created by others, are hindering us from being the woman God created us to be.  They are stopping us from truly being ourselves.
These sections hold some very serious topics, it may even feel overwhelming to think of it all at once.  But, if anything is taken from these sections, please let it be these four words…
If you'll let Him
 Isaiah 61:1-3
"The Spirit of the Lord God is upon Me,
Because the Lord has anointed Me
To preach good tidings to the poor;
He has sent Me to heal the brokenhearted,
To proclaim liberty to the captives,
And the opening of the prison to those who are bound;
To proclaim the acceptable year of the Lord,
And the day of vengeance of our God;
To comfort all who mourn,
 To console those who mourn in Zion,
To give them beauty for ashes,
The oil of joy for mourning,
The garment of praise for the spirit of heaviness;
That they may be called trees of righteousness,
The planting of the Lord, that He may be glorified."
*Healing. Releasing. Comforting. Providing. Bestowing. Joy-giver. Beautifier.*
We are told why Jesus has been placed on this earth, like the text says, it is not just to offer us salvation and then leave us to our own devices. He has come to continue to make us who we were designed to be. For this, I am so thankful. I am a work in progress. We are a work in progress.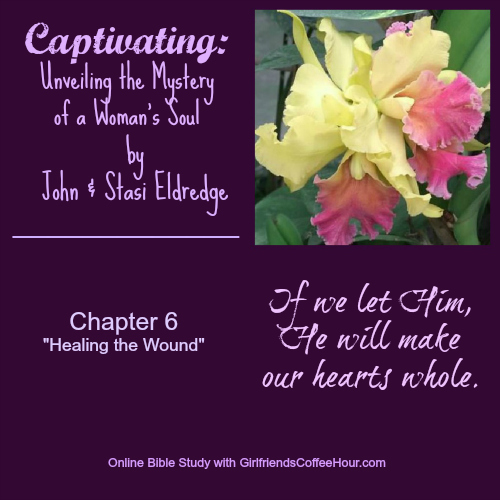 This summer I turned to God broken and hurting and He was there to save me…but He is not done. Thank God! Despite our wounds, despite our hurts, despite the past that we as women carry He is not done with us and He will do everything it takes to rescue us and set our hearts free.  If we let Him, He can, will, and wants to be all of these things to us. If we let Him, He will make our hearts whole.
_____________________________
Let's Pray:
Dear Heavenly Father, You told us that You came to heal our wounds, to make us beautiful, to free us. Thank You. We try to handle our wounds ourselves. We build walls, we hide them. Healing our wounds is a job for You, Lord. Please forgive us for trusting in our own methods more than trusting Your words, and Your heart. Please help us to take a step back and allow You in to those walled places, those places of pain. Please continue to mold us into the women You designed us to be. I pray for peace, strength, and joy, Lord.  In Jesus' Name, I pray. Amen.
___________________________
Your Assignment:
What are your thoughts on these sections? What touched your heart?  What do you have questions about?
__________________________
 If you are interested in joining this online Bible study, please click HERE to sign up.  Once we receive your registration, we will email you further details.
If you are interested in sending a private message to Tonya, please email her at TonyaEllison@GirlfriendsCoffeeHour.com