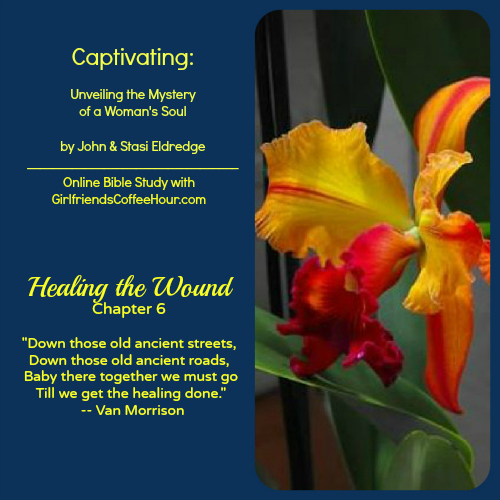 I hope studying about the enemy's ploys last week gave you another way of looking at your struggles and reminded you to keep putting on your armor .  Most importantly I hope it reminded you that there is always hope in Jesus!  I know that my thinking was challenged.  This week we start to work on healing our wounds.  I am looking forward to this more than you know.  Here are our reading assignments for the week:
Monday: Tonya – Healing the Wound – Hemmed In
Tuesday: Tonya – Turning From the Ways You Sought to Save Yourself – We Find Our Tears
Wednesday: Carissa – Forgive – Ask Him to Destroy Your Enemies
Thursday: Michelle –  Let Him Father You – A Deeper Healing
Friday: Edwina– Weekly Review
Saturday: Diane – Love Letters from God
LET'S PRAY
Father, we stand in expectation for what You have for us as we begin week 6. If we are struggling, help us to let our fears go.  We know that the enemy is trying to steal our joy.  We strive to live completely in You and for You.  Show us the lessons we can learn, and grow us in ways we can't even imagine.  In Your Name, we pray.  Amen.
*******************
If you are interested in joining us for the "Captivating" Online Bible Study, please click HERE.
Once we receive your registration, we will email you further details.