R

ealize I am not God

E

arnestly believe that God exists, that I matter to Him, that He has the power to help me recover

C

onsciously choose to commit all my life and will to Christ's care and control

O

penly examine and confess my faults to myself, to God and to someone I trust

V

OLUNTARILY SUBMIT TO EVERY CHANGE GOD WANTS TO MAKE IN MY LIFE AND HUMBLY ASK HIM TO REMOVE MY CHARACTER DEFECTS

E
R
Y
_________________
Happy are those whose greatest desire is to do what God requires.
Matthew 5:6
This week as we moved into allowing God to make changes and transform our lives, I was constantly reminded of His armor in Ephesians 6:10-18. Now you may ask why?  Once we say "Yes, Lord, I am ready for you to take control" the enemy will try to change our minds or put hurdles in the way.  So, 'Finally, be strong in the Lord and in his mighty power. Put on the full armor of God, so that you can take your stand against the devil's schemes' Ephesians 6:10, 11.
Monday, we discussed where our character defects came from.  Biologically or through our chromosomes we inherited traits, good or bad.  Some of these traits spun us into our addictions, hurts, habits, and hang-ups. We then looked at how our environment shaped some of our behaviors. Finally, we realized although we cannot change our chromosomes or some of the environmental factors, we have made choices that have driven us into our addictions or habits.
Aren't we thankful He has made us a new creation—it's like Play Doh.  Remember when you were younger and made different objects with Play Doh? Catch this visual: God taking your old person and squeezing it—squishing all the imperfections out—then carefully and graciously He creates a masterpiece out of the same clay, but with His hands, as He wants us to be.
Tuesday, Leslie brought it with her testimony of staying wrapped up in her defects because they were comfortable.  It is scary to look at the world outside our comfort zone.  So as we look at the question, "Why does it take so long to get rid of our character defects?" the real answer: (please listen very carefully, ladies…) SATAN IS A LIAR!!! There is no truth in him. Well put Leslie!!  So, let's counteract that with Jesus' words, "You will know the truth, and the truth will set you free" (John 8:32).  Yes, when we turn our control over to the One who has control of the universe, it will set us free!!  Free from our character defects, free from our confusion, free from satan's lies!
Wednesday, Kim talked with us about cooperating with the changes God is going to bring into our lives.  Our addictions, hurts, habits, and hang-ups are only a symptom—that there is something much deeper we have to allow Him to come transform within us.  But we first have to get to know Him.   She explained to us her need to find out who she truly was without the addiction.  God sent her a dear friend to help her through; He will always be faithful!  We also have to be faithful, focus on Him, pray and read His Word.  Kim said, "A simple prayer that has become a daily for me is this: 'empty me of me so that I can be filled with You.'"  Finally, Kim reminded us that our character defects cannot be improved; we have to allow Him to remove them.
Thursday, Amy took us to pray about it, write about it and share about it.  We need to remember that things cannot be fixed or changed all at once.  Ask God to show you where to start.  Pray that He will transform your mind and heart and begin to change those defects—as the book says, "one bite at a time."   Then along with writing in your journal put some Scriptures around that have helped you through this journey.  When you are reading the Scriptures make them personal and apply it to your life as an affirmation.  Finally, how is your progress going with an accountability partner?  Have you shared your inventory with them? If you have, then begin sharing that one defect that God showed you to begin with.  Be open, honest, and trust that through your sharing He will bring you much freedom.  Remember through this process: "As iron sharpens iron, so one man sharpens another" Proverbs 27:17.   
Today, I was going to end here with the review, but last night my son and I decided to go to a different church service. Sometimes I still try to control things. After all I have for so many years, I turn it over to God, then I pick it back up and I play 'ring around the rosie' with Him for a while. At church, after an amazing praise and worship time, the kids were dismissed to their group and the pastor began speaking. Here is the title of his sermon:  Trusting God to Overcome Obstacles.  Really?!?  Ok, God I am listening!!!  He spoke about David and Goliath, about the Goliaths in our lives, whatever they may be. Whether they are marriage difficulties, financial issues, children with difficulties, alcohol—no matter the subject…they become our Goliath.
1 Samuel 17 tells us that David looked at this 9 foot 9 plus inch giant, took a sling and 5 smooth stones and told him "I come to you in the name of the Lord of hosts, the God of the armies of Israel" (verse 45).  He then told Goliath "this day the Lord will deliver you into my hand" (verse 46). He then put a stone in his sling and defeated Goliath.  In the beginning of 1 Samuel 17 Goliath is called a champion.  With one stone, not 2, 3, 4 or 5, but one stone a shepherd boy defeated a 'champion.'  Not because of his strength, his ability, his mind, his size—but because David trusted God would overcome his obstacle.  Sometimes we look to others for help or for approval in how we are trying to live our lives.  Other times we feel defeated before the battle is even started.  There is only One that we need on our side.  It doesn't matter who counts us out…as long as Jesus counts us in.  Trust God for the Victory—believe He will change those defects and allow the freedom to begin filling your life.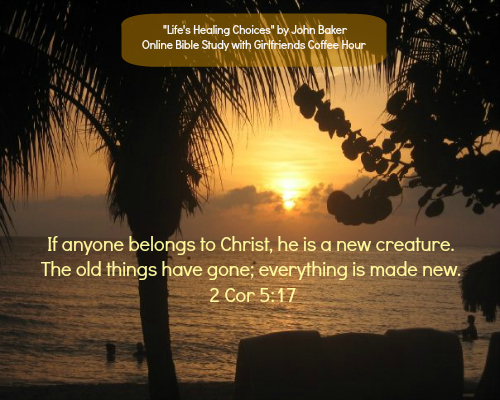 Let's Pray:
Most loving and gracious Father, we come to You today with open hearts, willing and ready to allow You to change the defects in our lives. Father, we know we cannot take this journey alone—please guide us, strengthen us, and transform our hearts and minds. Heal those hurts we have been hanging onto, remove the habits and hang-ups we have dragged along with us and fill those empty places with You.  We want so much, as Kim said, to be empty of ourselves and filled with You.  Lord, give us the courage to share these changes You are making in our lives.  Let us each be that light to another person for Your glory.
We thank You for preparing us for these next steps.  Help us to stay focused on You with open hearts and minds, willing to take the steps You show us.  Keep the enemy at bay through this, Father, and help us to stand strong. We love You, Lord, and praise Your Holy Name.  In Jesus' Name, Amen!!
Your Assignment:
Continue sharing with your accountability partner and in our private Facebook group, how the Lord is changing your hurts, habits, and hang-ups.
_________________
If you are interested in joining us for the online Bible study, click HERE to sign up.  Once we receive your registration, we will email you further details.
If you would like to send a private message to Laurie in regards to this blog, please email her at Laurie@girlfriendscoffeehour.com