It's funny how some foods are relegated to specific dates on the calendar.  For instance, canned pumpkin is on the shelves in my grocery store twelve months a year, and yet we only think about pumpkin pie for one, maybe two months a year.  If you were to show up to an Easter brunch with a pumpkin pie, I guarantee you'd get some really strange looks!  Likewise, Buffalo wings have been pigeonholed into being a "party" food, and rarely show up for the family dinner.  Why is that?
Wings are not hard to make, but I feel like they're a little hard to eat.  So I made a recipe that is a twist on the fiery-hot Buffalo wings, and is easier to eat, because it calls for drumsticks instead of wings.  There's no frying, you control the level of heat, and they are easy to make and eat.  What's not to love?
The secret ingredient is not-so-secret, since I bought it at Target!  It's an Indian spice blend called garam masala.  Garam masala recipes vary by neighborhood and family in India, so there's no one authentic combination of spices.  The one that I bought features black pepper, cardamon, coriander, and cinnamon.  It smells sort of like Chai tea, but is not sweet in and of itself.  If you can't find garam masala, you can substitute one part ground cumin and one part pumpkin pie spice.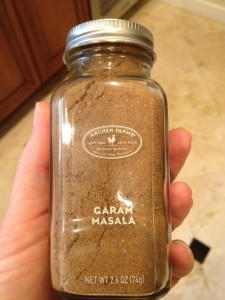 The traditional accompaniment to Buffalo wings is carrot and celery sticks with bleu cheese dressing.  To make this a dinner, why not serve a big salad with bleu cheese dressing, or even a fancy wedge of iceberg lettuce with bleu cheese and diced bacon?
Indian-Spiced Drumsticks
Ingredients:
10-12 drumsticks

1/2 stick butter
1/4 teaspoon granulated garlic
2 tablespoons (or more!) hot pepper sauce, like Tabasco or Sriracha
1 teaspoon garam masala, or 1/2 teaspoon ground cumin and 1/2 teaspoon pumpkin pie spice
1/2 lime, lemon, or orange, juiced
a few shakes of Worcestershire sauce
salt and pepper
Directions:
Preheat oven to 375*F.  Line a baking sheet with aluminum foil.  Spray with cooking spray, and lay out the drumsticks.  Don't crowd them – make sure there's plenty of room around them!  Bake for 30 minutes.  Remove from oven and lower temperature to 250*F.
Make the sauce:  In a very large pot, add all the remaining ingredients.  Stir together over medium-low heat.  When the sauce is simmering, add the drumsticks and stir for 5 minutes, making sure to coat the drumsticks thoroughly.
Remove wings from sauce and place back on the baking sheet.  Bake for 15 minutes.  Serve hot, with extra hot sauce if desired.
Note:  I really apologize for the shoddy quality of the photo.  I made these drumsticks on a whim for my husband and his brother for the Super Bowl.  I wanted time to set them up, make them pretty, maybe add a garnish – but no!  The men needed protein NOW!  Next week I promise to have an attractive photo for a tasty dish.
Explore, experiment, enjoy! — Dana
---
To view even more of Dana's unique recipe, you can visit her at Frugal Girlmet!
---
---
If you would like to contact Dana in regards to this blog, please email her at Dana@girlfriendscoffeehour.com