We have heard a lot this week about the hatred for us as women, and how hard the enemy is trying to get to us.  This is very important, something we need to be aware of so that we can be prepared when under attack.  But what I want to leave you with as we finish this chapter is that all is not lost.  There is hope.  When we put our faith in Jesus, there is always hope.
I love what the book of Romans has to day about hope:
 Through him we have also obtained access by faith into this grace in which we stand, and we rejoice in hope of the glory of God. More than that, we rejoice in our sufferings, knowing that suffering produces endurance, and endurance produces character, and character produces hope, and hope does not put us to shame, because God's love has been poured into our hearts through the Holy Spirit who has been given to us. Romans 5:2-5
 Amen my sisters.  HOPE DOES NOT PUT US TO SHAME.  Do not let the trials we face cause you to cave.  Let it bring you to your knees, to the feet of our Great Redeemer.  In Him we receive our hope.  You are passionately loved by the God of the universe. And my wish for you is that, May the God of hope fill you with all joy and peace in believing, so that by the power of the Holy Spirit you may abound in hope. (Romans 15:13)
_______________________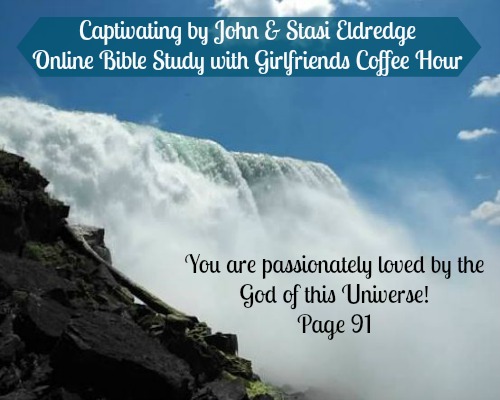 LET'S PRAY
Dear Father, I have a special prayer today for every woman You have brought here. Some women have been wounded by the special hatred the enemy has for her. I pray that each one will see the enemies lies for what they are. Lord, reveal to them the awesome beauty, strength, love and power that You have blessed them with. Have them feel the truth and hope You have to offer.  In Your Heavenly Name I pray.  Amen.
YOUR ASSIGNMENT
The authors of this book stated, "You really won't understand your life as a woman until you understand this: You are passionately loved by the God of the Universe.  You are passionately hated by His Enemy."
With that in mind, we also need to remember:  As the daughter of the most High King, we have been given all power over the Enemy!  We have been chosen the Most High King, sought out, pre-destined, from the beginning of time.  Jesus came so that we could be healed from our brokenness!  It's time to run to Him!
Are you beginning to believe it?
________________
If you would like to join us for this amazing online Bible study, click HERE.  Once we receive your registration, we will email you further instructions.
If you would like to send Michelle a private a message in regards to this blog, please email her at: Michelle@GirlfriendsCoffeeHour.com