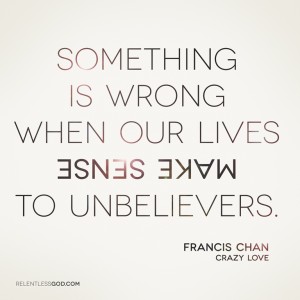 Ok ok…so chapter 4 was pretty convicting and, if you have made it this far with us, that means that you have made the boldly intentional decision to be moved to ACTION, repent, and move forward full speed ahead to live as a Christ-follower the way that God has ordained you to! I applaud you and know that you are not alone in this! God is with you every step of the way…and we are, too!
Now,  for chapter 5….
A few Thanksgivings ago, this story was relayed to me (and I don't even remember where I heard it…) and it was the first thing that popped into my mind when I read the title for Chapter 5.
At one point, the Butterball Turkey Company set up a telephone hotline to answer consumer questions about preparing holiday turkeys.  One woman called to inquire about cooking a turkey that had been in her freezer for 23 years.  Can you imagine!??!??! Turkey and stuffing is Craig's favorite meal and that would NEVER happen in my house. Anyway, the representative told her the turkey would be safe to eat, but did not recommend eating it because the flavor would have deteriorated over this much time.  The woman caller replied, "That's what I thought.  Okay then, we'll just give it to our church."
Um…. uh…. er…. (yes, pick your jaw up off the ground and let's continue….)
Serving leftovers to family and friends can be one of the best things we can do.  In my family, when I make dishes like lasagna or spaghetti, they always seem to taste a little better served as a leftover.  Mmmmm…and  homemade soup served again on the second day: YUM!  However, there is nothing good about serving leftovers to God, which has become the norm for far too many of us Christians.
It is nothing less than idolatry.
Need some examples of how we serve leftovers to God???
In our worship when we consistently show up late and pray for the preacher to finish up quickly so that we can beat the Presbyterians to Cracker Barrel.
In our careers when we give less than our best effort, thinking, "Well, I haven't had a raise in 3 years, what do they expect about my performance?"
In our relationships when we find more satisfaction in our earthly relationships with others than we do in our relationship to God.
The menu of leftovers is endless.  When we consistently remove God from first place in our lives, it is not long before He has virtually no place there.
We are designed by God for God, and we are to make Him our first priority.
His purposes are to be our purposes.

His plans are to be our plans.

His passions are to be our passions.
1 John 2:3, 4 (NIV)
We know that we have come to know him if we keep his commands. Whoever says, "I know him," but does not do what he commands is a liar, and the truth is not in that person.
I don't know about you, but I read there that if I profess to know the Lord but my actions are in contradiction to His Word, then I am a liar and I do not have the Holy Spirit living in me. God deserves our best. Is that what you are giving Him…with intent, or are you just haphazardly going about your day each day giving Him whatever is left over? If the latter is more of a valid statement, repent TODAY and begin to truly follow God and give Him the best of everything you have and are…after all, it's all His anyway. <3
THIS is how we make sure we are giving God our best…and not just our leftovers.  God demands exclusivity, and that is exactly what He deserves—not so much for what He does for us, but simply for who He is.  He is God, our Abba Father, and He is worthy of our absolute best.
Let's Pray: 
God, show us clearly today how we have been giving You leftovers instead of our very best, fresh self. Convict us of this, Lord, and make today a new day for us in every way! A brand new beginning where we see our relationship with You and our life as a Christ-follower in the light You intended for us to see it in. This is not a right but a privilege, and it takes intentional work and devotion on our part. Help us, Lord, as we cannot do this on our own. In Your Son's amazing name we pray, Amen. <3 
Your Assignment: 
So . . . where in your life have you been serving leftovers to God? Share with us here today; let us lift you to the Lord and encourage you to GIVE YOUR BEST for His glory!!!
________________________________________________________________________________
If you are interested in joining this amazing online Bible study for Crazy Love, click HERE to sign up. Once you are registered, you will receive an email with further details.
If you would like to email a private message to Megan in regards to this blog, please email her at: megan@girlfriendscoffeehour.com