Here on our At Home with GCH  blog, Monday's are always focused on healthy but oh-so-yummy! recipes. This month we are going to do a series of looks at appetizers.
I am here to confess: I love appetizers!  Whether you call them tapas, small bites, hors d'ouerves, antipasto, or simply appetizers; no matter what you call 'em…I like 'em!  My favorite type of casual get-together has appetizers as the food component.  Oftentimes, when hubby and I go out to eat I prefer a couple of appetizers over almost anything else offered on the menu.  So that's me!  I would love for you to leave a comment below sharing with us YOUR favorite appetizer(s).
Now this week we are going to be making dips: two very different ones—one is chilled and one is warm! The first is homemade Lemon PineNut Hummus.  And our second recipe is for Spinach Artichoke Dip.  Remember we always endeavor to make our recipes as healthy as we can but keeping them oh-so-yummy.  The Lemon PineNut Hummus is relatively naturally healthy with chickpeas as the main protein.  Now the Spinach Artichoke Dip is notorious for being incredibly high in calories (mostly fat calories).  You will notice as you peruse the recipe that we have reduced the fat by using less cheese (but still enough; you'll see!), and choosing Greek yogurt in place of most of the mayonnaise.
Lemony PineNut Hummus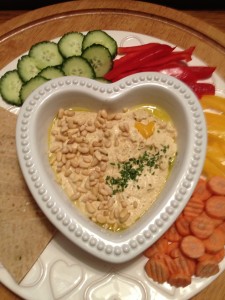 I toasted the pine nuts in a small skillet for 3 minutes before adding them to the food processor. The pine nuts give the hummus a rich, sweet flavor that is oh-so-yummy!
1 (15 ounce) can chickpeas, drained and rinsed
1 heaping Tablespoon chopped garlic (I use jarred)
1/4 cup filtered water
¾ cup pine nuts, lightly toasted (reserve 1/4 cup for garnish)
2 tablespoons of tahini
juice of 1 small lemon (try Mayer lemons, if you can find them)
1/4 cup unflavored Greek yogurt
2 tablespoons olive oil
pinch EACH of tarragon, thyme
dash of crushed red pepper (optional)
1 teaspoon salt, freshly ground black pepper
1 teaspoon dried parsley (plus more for garnish
In a food processor, blend the chickpeas, garlic, and water. Add ½ cup of the pine nuts.  Blend until very smooth.  Add tahini, lemon juice, yogurt, olive oil, herbs, and salt until the ingredients come together into a paste-like consistency.  Pour into a 2 cup serving bowl; garnish with any remaining parsley and 1/4 cup pine nuts.  Cover and refrigerate about an hour.  Serve with fresh veggies (carrot sticks, sliced red and yellow peppers, cucumber rounds, sliced radishes) and Pita's (nice if toasted), or flatbread.
Warm Spinach Artichoke Dip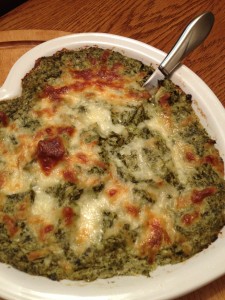 2 (8.5 ounce) cans artichoke hearts packed in water (drained)
1 (10 ounce) package frozen chopped spinach (thawed and squeezed dry)
1/4 cup Vidalia onions, chopped
2 heaping tablespoons chopped garlic (I use jarred)
8 ounces unflavored Greek yogurt
½ cup mayonnaise
4 ounces part-skim shredded Mozzarella cheese, reserve
6 ounces freshly grated Parmesan cheese   Kosher salt, freshly ground black pepper
Remove chopped spinach from package, place in sieve or colander, and rinse gently with cold water, breaking up into chunks.  Let it defrost completely and then squeeze dry with your hands. (I try to remember to do this step earlier in the day.)
Preheat oven to 375.  Lightly grease or use olive oil cooking spray on a 1+1/2 – 2 quart baking dish; set aside.
In a food processor, coarsely chop the artichokes along with the garlic and onions.  Add the dry spinach, yogurt and mayonnaise. Pulse a few times until all is incorporated together.  Pour into ovenproof bowl or baker, and stir in cheeses, salt, and pepper.  Sprinkle top with a pinch or two of additional cheese.  Bake for 20-25 minutes until hot and cheeses are melted.*  Serve immediately.  We like cubed pumpernickel bread or Italian/French bread cut on the diagonal into thin slices; or thin crispy chips (tortilla are great); or carrot sticks.
* You can also heat the dip in a small crockpot for 2-3 hours on low; just be sure it is hot and the cheeses are melted.
God loves you!   ♥  (Don't ever forget that!)
♥  coleen
_________________________________
If you would like to send a personal message to Coleen concerning this series, you may email her at: Coleen@girlfriendscoffeehour.com