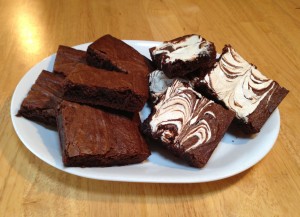 Ah brownies!  When I was baking for a local deli in my area, brownies were without a doubt one of the most popular items I sold.  Until relatively recently, if I wanted to make brownies, I just went to the box mix.  It was easy and they had so many different varieties.  Well, if this sounds like you, I challenge you to take the plunge into making your brownies from scratch.  You won't believe the difference until you do it for yourself!  It is still easy, and the possibilities are endless.
Today I am going to share my basic brownie recipe with you, and one of the variations I have come up with.  Remember, you can be as creative as you wish!
Basic Brownie Recipe:
½# (2 sticks) butter (I use salted)
4 ounces unsweetened chocolate
2 large eggs
1+½ cup sugar
1 teaspoon vanilla extract, pure is best
1 cup all-purpose flour
½ teaspoon kosher salt
Directions:
1. Preheat the oven to 350F.  Spray an 11 x 7 brownie pan (did you know they made actual brownie pans?  I didn't!) with cooking spray, or butter and flour it if you prefer.
2. Using the microwave, melt the butter and chocolate.  Start with one minute, and then stir.  If it needs to melt more, heat using 30-second intervals, stirring between until the mixture is smooth.  Let stand. (You may also use a double boiler if you prefer.)
3. In the bowl of your mixer beat together the eggs, sugar, and vanilla on medium speed for about 2 minutes.  Reduce speed to low and add in the butter/chocolate mixture until combined.
4. In a separate bowl, combine the flour and salt.
5. Add the flour mixture to the chocolate mixture on low speed until just combined.  Do not overmix.   Scrape down the sides and mix a few times with a spatula by hand.
6. Pour the batter into the prepared pan.  Bake for 30 minutes on the center rack of the oven.  Cool completely in pan, then cut and enjoy.  From this size pan I usually get 8 nice sized brownies.
Variation:
Marshmallow Brownies:  Use the recipe above.  After pouring the batter into the pan, take approximately 1 cup of marshmallow fluff and spoon 6 dollops evenly onto the batter.  Run a knife in a back and forth motion to create a marbled look.  Bake as normal.  NOTE: If the fluff is too sticky, place it in the microwave for 30 seconds, it will be easier to work with.
Tell me your favorite brownie add-ins! Some of mine are:
Caramel
M & M's
Mini Marshmallows
Walnuts
Mint chocolate chips
I would love to hear if you try this recipe out, and what creations you come up with!
________________________
If you would like to send Michelle an email in regards to this recipe, please email her at:  Michelle@GirlfriendsCoffeeHour.com