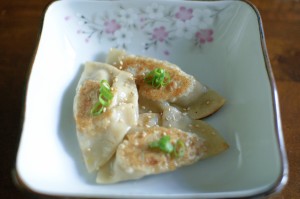 "Mandu" in Korean, "Gyoza" in Japanese, "pot stickers" or "wontons" at your favorite Chinese restaurant—whatever you call them, everyone loves dumplings!  You can buy them frozen in many Asian grocery stores, but why not make them at home?  It's fun, and best of all, YOU have control over what does—or does not—go into your food.
You shouldn't have any trouble tracking down the ingredients for this recipe.  Fresh ginger and wonton skins can be found at nearly all grocery stores.  If you can't find ground pork, you could try ground turkey instead.  Napa cabbage works best in this recipe, but you can use regular green cabbage; just make sure you shred it finely.
Ready to make dumplings?  Let's go!
Korean Dumplings  (Mandu)
Ingredients:
1/2 pound ground pork
1 large carrot, shredded or chopped in a food processor
about 1/2 cup cabbage, shredded
4 green onions, minced
2 tablespoons grated fresh ginger
2 cloves garlic, finely minced
1 tablespoon sesame oil
2 tablespoons soy sauce
1/2 teaspoon salt, plus more for the cabbage
1 package gyoza skins (mine had 25 skins in the package)
Directions:
After you've shredded your veggies or chopped them in the food processor, sprinkle with a good teaspoon of salt, focusing on the cabbage. Let sit for 15 minutes or so, and then squeeze out the water. You can do this by hand, or put them in a strainer and press with your hands or the back of a spoon. You don't want watery filling.
Add pork and veggies to a mixing bowl. Then add the ginger, garlic, sesame oil, soy sauce and salt. Stir to combine or use your fingers to make sure everything is really well mixed.
To fill dumplings, hold a gyoza skin in your left hand, and spoon a teaspoonful (don't be tempted to over-fill!) of filling into the middle. Dip your finger into a bowl of water and wet one half of the edge of the skin, making a C. Fold the other half over and press to seal. I gave mine two little pleats, just to be pretty, but a straight fold is fine too.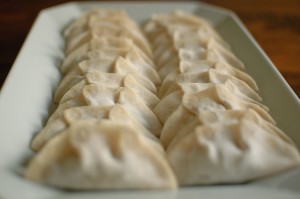 To cook: you can add these to soup, or just boil them in chicken broth and add some green onions and a little soy sauce  or miso paste for a really fast dumpling soup. I like mine fried. Heat a tablespoon of sesame oil in a skillet and add your dumplings. Cook for 2 or 3 minutes on medium-low heat until they get golden and crispy (watch carefully, they burn quickly!). Flip the dumplings, add 3 tablespoons of water to the pan, and cover. This steams them and cooks the filling evenly. After 5 minutes, remove lid and cook until golden and crispy. Serve with a dipping sauce of 2 tablespoons soy sauce, 1 tablespoon rice wine vinegar, 1 tablespoon sugar, and freshly ground black pepper.
Explore, experiment, enjoy! — Dana
---
Please visit me at Frugal Girlmet for more unique recipes!
---
---
If you would like to contact Dana in regards to this blog, please email her at Dana@girlfriendscoffeehour.com