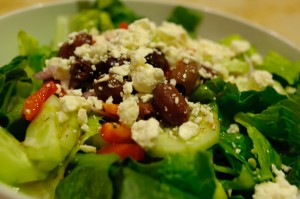 We are big salad eaters at my house.  (And when I say "we", I mean my husband and I.  My girls won't go near the lettuce unless it's shredded in a sandwich, and even then it's touch and go!)  We'll have a big salad for dinner at least once a week, sometimes more.  I'm always on the lookout for ways to eat healthier, get more veggies, and eat less refined carbohydrates.  This Greek Salad really fits the bill!
If you've made this salad before or had it at a restaurant, you know it's fresh, bright and simple.  The two things that make it spark and give it that clean taste are the dressing and the cheese.  The dressing is maybe the easiest vinaigrette around—all you need are dried oregano, lemon juice, and olive oil!  Taste it, add salt, pepper and a pinch of sugar to taste, and you're done!  The cheese is a crumbly white cheese called feta.  It tastes sort of like goat cheese, but it's a little saltier, a little drier in texture.  It's also very low in calories, so feel free to add a few tablespoons to your salad.
We had this salad last night, in huge bowls, with braised chicken.  If you want to make it a one-dish meal, add diced chicken or grilled shrimp right to the salad.  Healthy and delicious—it's what's for dinner!
Greek Salad
Ingredients:
2 heads romaine lettuce

1/2 red bell pepper, thinly sliced
1/2 cucumber, peeled and sliced in half, then into half-moons
1/4 red onion, sliced as thin as possible
1/4 cup black olives (I like Kalamata; make sure you buy pitted olives – I hate spitting out the pits!)
1/4 cup crumbled feta cheese
1 teaspoon dried oregano
1 lemon, juiced
salt, pepper, and a pinch of sugar
1/4 cup olive oil
Directions:
Make the dressing:  In a small Tupperware cup with a tight-fitting lid, mix together the oregano, lemon juice, salt, pepper, and a pinch of sugar.  Set aside – this gives the oregano time to "bloom" in the lemon juice and release it's flavor.  If you add the oil too soon, you coat the oregano and it's flavor won't be as strong.
Cut the lettuce into bite-sized pieces and wash well.  To compose, fill a large bowl with the lettuce, then top with bell pepper, cucumber, onion, olives, and feta.
Add the oil to the oregano and lemon juice, shake well to combine, and pour over salad.
Notes:  This recipe makes 2 big salads, or  4 side salads.  Many people add tomato to a Greek Salad, and I encourage you to try it out—in the summer, when they are in season.  If you have leftover salad ingredients, this makes a great wrap—just roll it all up in a tortilla and eat like a burrito – especially great with chopped, cooked chicken! 
Explore, experiment, enjoy! — Dana
---
---
Please visit me at Frugal Girlmet for more unique recipes!
If you would like to send Dana a private message in regards to this recipe, please email her at: Dana@girlfriendscoffeehour.com.